Off to Kiteboarding Mecca La Ventana this Week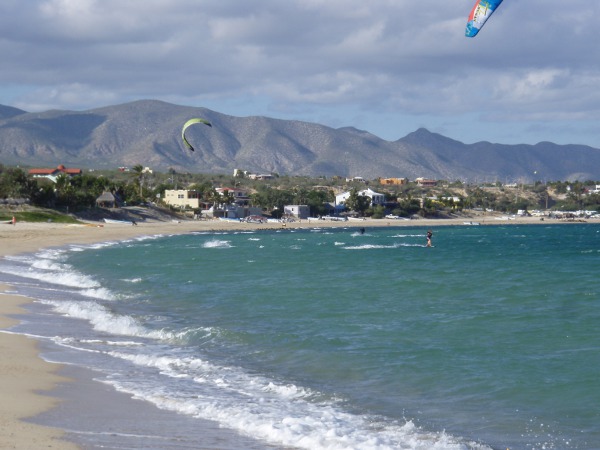 Tomorrow we'll be driving from Central California to the tip of Baja Mexico: about 1,500 miles of desert, sagebrush, and endless Negra Modelos.
Destination: La Ventana, a massive sandy bay on the sea of Cortez with absolutely ridiculous kiteboarding conditions.
La Ventana is a of freak of nature in a geographical sense: Every day at about 1pm all hell breaks loose as winds sweep off the Sea of Cortez right into the lower part of the bay. For 4-5 hours the scene resembles a natural disaster that collided with a kite-flying convention. Then, as if someone flipped a switch, the wind shuts off. You can laze on the beach and watch the moon come up over perfectly flat water.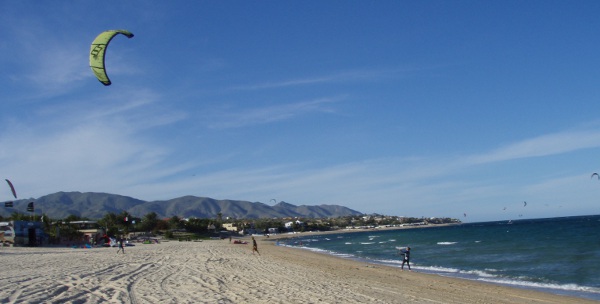 The strange thing about kiteboarding is how much you start to crave the period of the day what would send saner people running for cover. If you've never tried the sport I'd recommend it, with these caveats: it's not easy on your bank account—a full setup of used gear is roughly equivalent to buying skiing equipment—and be careful: kiteboarding is so much fun it can almost ruin other 'pay-to-play' sports.
In any event, it's going to be fun, we just need to get there.
Getting to La Ventana
Only problem is it isn't cheap to fly into La Paz (the nearest city), which is one reason we'll be driving. But we're also taking more gear than I've packed for any trip in my life: 5 kiteboarding kites, 2 surfboards, 2 kiteboards, 3 wetsuits, stoves, pots and pans, sleeping bags, tents, general camping gear, 2 mountain bikes, books, boardgames, and so on. If there's any fun to have in 1,000 mile radius then  we're going to have it.
But if we get car-jacked I'm going to lose 75% of my worldly possessions in one fell swoop.
Which brings up a good point: how dangerous is Mexico, really? That's a good question, and since I've generally down-played the danger of many places to paranoia and hype I guess I'll have to ante up this time. Parts of Mexico are truly sketchy and I'm not looking forward to all of the 2.5 days this drive is going to take.
But if you run the numbers, 150,000 Americans cross the border into Mexico each day, and (apparently) only 120 Americans have been killed there, like, ever. That's a pretty small chance of something bad happening (especially if you avoid border towns are where most of the shit is going down). We also personally know of hundreds of people who drive to La Ventana every year to kitesurf—my dad has himself done it several times.
Of course, between December 2006 and September 2011 nearly 50,000 Mexicans have been killed by narcotics-related violence, soooo….
Our battle plan is to outright avoid the biggest town and most likely place for something to go wrong: Tijuana. We'll be skirting San Diego and crossing the border into Tecate, then shooting down the highway as far as we can in daylight. If there's any surf I'll also be trying to track it down with the help of the latest edition of The Surfer's Guide to Baja.
Some Frequently asked questions about La Ventana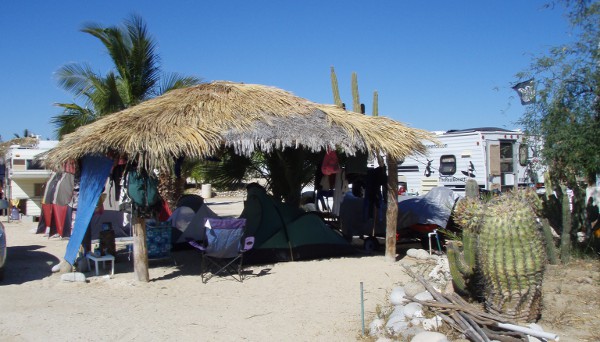 Camping is rustic for sure, but it's also right on the beach with hot showers, electricity, Wifi, and it's only $8 a night for a spot. Basically car-camping at it's best. There are other more expensive options if you need them, like houses for rent. A lot of people drive down in RVs.
As far as leaning to kiteboard goes (and this is going to kick me in the ass at some point), I've been telling people that compared to other sports I've done kiteboarding is relatively easy to learn. Sure, you can kill yourself in the first 5 minutes if you don't know what you're doing, but barring that you can be up and riding in a matter of days. If you have any board experience at all—wakeboarding, snowboarding, skateboarding, surfing—then all you really have to do is fly the kite, which once mastered is sort of like driving a speedboat while you're towed behind it.
Just don't learn the fundamentals incorrectly—make sure you get taught by a pro (this is not a sport where you teach your friends). There is excellent kiteboarding instruction in La Ventana. It's where I learned. Check out Nat's Edge Kiteboarding school – he's one of the best instructors I've had for anything ( he also teaches near the Bay Area in the summer). After initial lessons I'd recommend the Progressions Kiteboarding DVDs – they fill in a lot of the gaps.
Besides kiting there is a ton of other stuff to do in La Ventana, like Mountain Bike, run, swim, paddleboard, and so on. I'm also planning to make a few surf runs over to the pacific side of Baja. And if 'cabin fever' sets in I'll be heading straight to Cabo.
Hope to see you there!