What it Costs to Live Around the World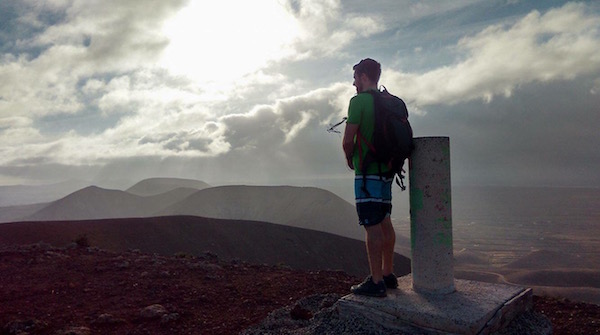 A breakdown of my cost of living over the last few years.
I'm a strong believer that budgeting and tracking are among the most important skills you can develop. Simply because to be in charge of your destiny you have to know what's going on and what the plan is. Having access to good numbers is often the hardest part (running a business, fitness, health), but fortunately tracking personal expenses couldn't be easier.
Since childhood I've been a a bit OCD about tracking money. I still remember the investing pamphlet my dad gave me around age 12 about saving money and compound interest. You know the one: clean little graphs illustrating how $1 saved a day will miraculously become $1,000,000 by age 50.
Skill in tracking and saving is what ultimately allowed me to save $15,000 for travel during my first job out of college.
Being a business owner takes the budgeting OCD up a notch. It's a much bigger deal when the numbers don't add up when you're talking employees and cashflow. 
But the two simple points I want to make in this post:
First, I want to illustrate how easy it is to track personal expenses at home or on the road.
Second, I want to show you my actual cost of living around the world. It's not all living on $20 a day, that's for sure.
How to easily track your day-to-day expenses
First of all, forget Mint.com (although useful for seeing things in one place) or any other sort of bookkeeping service that requires you to sit down and look at it on a regular basis. If you're anything like me this will never happen. Tracking after the fact doesn't work that well unless you spend a lot of time fiddling with it and then dedicate time each month to sit down and deal with it.
A better option: track as you go.
I use the simple, free app TrailWallet (as mentioned in 18 travel apps I use daily) to enter my expenses as they happen. That means right after I've handed over the cash or right after I've hit the 'Purchase' button.
This takes a little discipline and the formation of a new habit, but the only time in my life I've seen costs get out of control was when I stopped doing this for a few months.
Real-time expense tracking does a few things:
Awareness: The act of manually entering expenses means you can't sleepwalk through a bunch of spending.
Good, Real-time Data: You know in any given moment exactly how much money you've spent for the month.
This takes care of the hardest part of anything, which is the tracking (both finding and recording clear numbers) and, for those who travel, you end up with a really cool cost-of-living index for places you've been.
My actual monthly expenses for the last few years
So without further ado, here is the breakdown.
Note that the record is not 100% here. I have other spreadsheets tracking this but to make it simple I'm only pulling data where I used TrailWallet, which keeps it simple and is probably more accurate.
Here's a yearly overview of average monthly cost of living:
2016 –  $2,321.39
2015 – $1,484.77
2014 – $1,716.20
2013 – ~$1,200-1,500?
And the only place I've lived long enough to have a location-specific average:
Budapest, Hungary – $1,829.27
And here's the month by month breakdown, pulled from TrailWallet (June did not make it in here):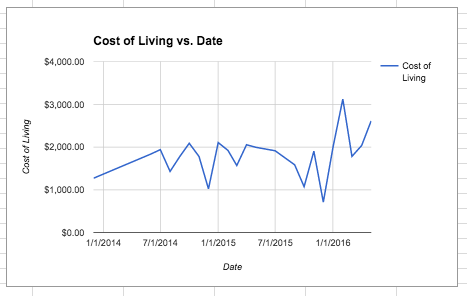 2016 – Budapest and the  Canary Islands
June – $1,951.31 (Budapest)
May  – $2,656.25 (Canary Islands > S. Spain > Portugal > Budapest)
April – $2,038.54 (Fuerteventura, Canary Islands)
March – $1,782.85 (Fuerteventura, Canary Islands
February – $3,123.65 (Madrid > Fuerteventura*)
January – $2,005.65 (Baja, Mexico > Budapest)
2016 Average: $2,321.39
* Major gear investments totaling $892. Living in Fuerteventura also required renting a car.
2015 – Budapest
December – $713.30 (California > Utah > Baja, Mexico)
November – $1,903.93 (Budapest > Prague > California)
October – $1,074.72 (Budapest > Bangkok, Thailand > Budapest)
September – $1,586.33 (Budapest)
August – Not Tracked
July – $1,914.81 (Budapest > Malta > Budapest)
June – Not tracked
May – $1,995.16 (Budapest)
April – $2,055.26 (Budapest > Zurich > Budapest)
March – $1,570.36 (Budapest)
February – $1,922.94 (Budapest > Amsterdam > Budapest)
January – $2,106.03 (Baja, Mexico > San Francisco > Budapest)
2015 Average: $1,484.77
2014 – Chiang Mai to Budapest
December – $1,022.92 (Utah > Baja, Mexico)
November – $1,780.47 (Budapest > Utah)
October – $2,089.91 (Budapest > Prague > Budapest)
September – $1,781.43 (Budapest)
August – $1,431.66 (Budapest)
July – $1,940.91 (Mallorca > Budapest)
June – $1,838.43 (Mallorca)
2014 Average: $1,716.20
2013 – Chiang Mai
December – $1,273.17 (Chiang Mai)
Some general thoughts on the numbers
Cost of Living Trends
First of all, it looks like a trend going in the wrong direction, but June (not in the graph) shows things have calmed down a bit . The last few months involved a lot of travel, gear investments (for surfing and kitesurfing), and logistical requirements (renting a car for 3 months).
Overall, leaving SE Asia and moving to Europe involved a cost increase over baseline, though not as much as you might think (e.g. comparing December 2013's $1,273 vs August 2014's $1,431). The more expensive months involved some kind of ridiculous regional trip like Ibiza or a skiing trip in Switzerland.
So sure, there's some lifestyle creep going on but we're still shooting to keep costs below $2,000/mo without any major sacrifices in living conditions.
What's not included
You might be wondering how much it costs to fly Business Class from Baja to Budapest, or round trip from Budapest to Bangkok. Well, this much:
Baja to Budapest (Business Class) – 50,000 miles and $300 on American Airlines ($300 wiped out with CapitalOne rewards points).
Budapest to Bangkok – 45,000 miles ($450 wiped out with British Airways points).
So no doubt some major expenses are being eliminated by airline miles, and it hasn't changed much since I flew around the world for less than $220. But I don't take too many long-haul flights each year and tend to pay for the regional flights. I'm sure my travel patterns would change if the cost of these trips went up.
If you're American and you still haven't gotten this part sorted, see my short credit card + airline miles FAQ.
Outliers
How can you live on $700?! This what happens when you wipe out rent as an expense, as in visiting home for an extended period of time. Rent is usually the biggest single cost in a month, except in Chiang Mai where it clocked in at $150. The interesting thing about this is it means my discretionary spending is pretty much the same in Chiang Mai (monthly total of about $1200 even with $150/mo rent) as Budapest where my rent is $650 but total is usually around $1500-$1800.
Final thoughts
Tracking is the key, not just to money but anything else. If you're just getting started learning to track personal expenses is worth the effort.
It's also worth revisiting these two posts:
photo at the top:
exploring the hinterlands of Fuerteventura]