18 Travel Apps and Tools I use Daily on the Road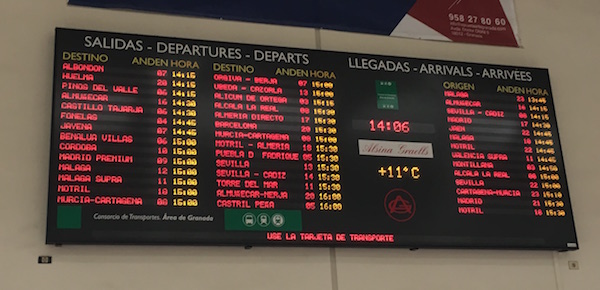 Traveling used to be a lot harder.
I remember trying to write a blog post in Buenos Aires in 2008. Wifi as we know it was not widely available, but internet cafes were everywhere, and they worked pretty well if you could get around the non-US keyboards and the impossibility of finding the '@' symbol.
The ease of modern travel with a local SIM card powered smart-phone with broadband internet access is borderline ridiculous. Nothing is impossible when you can get on the internet, and wandering around looking for accommodation has been replaced by some quick tactical research. 
After 3 weeks of traveling through part of the Canary Islands, Southern Spain, and Portugal, this list of tools naturally rose to the surface through daily use. There is still a lot of room for improvement (used Skype recently?), but it's a lot of fun when a new tool comes along and solves a major first world problem.
Of course, any troubles we have today are minor inconveniences compared to traveling before the ATM was ubiquitous and where getting money on the road took days. While this list makes life on the road a bit easier, the catch is (as always) that increased efficiency does not equal better quality. Half the fun in the early days of travel was the getting lost while trying to find the internet cafe and figuring it out how to deal with it.
But for now, I'm happy to pass on the endless wandering around with printed maps, and this time and energy can be used for things I'd rather focus on.
Here is the basic travel toolkit:
Finding Things you Need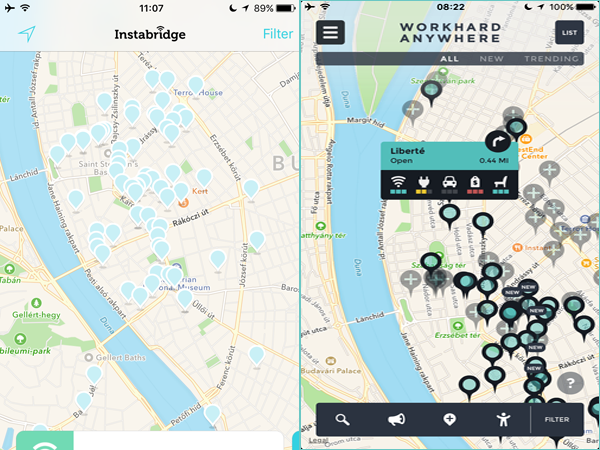 This goes into the gamechanger category.
Say you arrive in a new city, and you need to find wifi. How about a map showing both location and speed of the available networks, not to mention automatically logging you in since a good samaritan has already saved the password for you.
Instabridge (and another app I just found this week, Work Hard Anywhere) make it much easier and faster to find usable internet since you can both sort by internet spend and venue type. With Work Hard Anywhere you can also see information about plug availability, price, even seating availability. Both of these apps also integrate with Foursquare (below) for more detailed venue information. Great for finding wifi on the road, but also finding new places at home to mix it up.
While I often end up tethering to my iPhone a lot while traveling, the cost adds up and it's nice to work somewhere besides the room you sleep in.
Instabridge seems to be having some issues right now with regards to adding new wifi hotspots, but you can still see everything that has already been added. Both of these apps are worth checking out.
#2 Foursquare (App) – Find local things you need.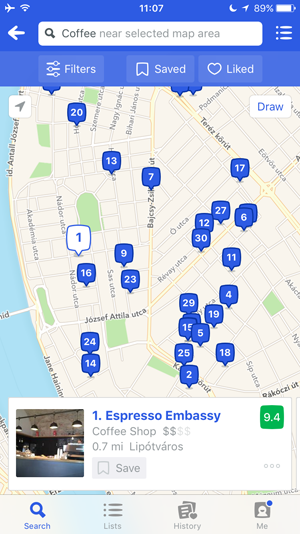 Obviously well-known for a long time but something I had never used until the last year or two. Foursquare can makes it a lot easier find great local places for the basics, like where to eat, coffee shops, where to get a haircut, etc. The reviews and pricing information give you some indication of what you're getting, and I've used this app to find some of my favorite restaurants at home.
A couple of big fat caveats: Foursquare is often totally inaccurate on location. After repeatedly walking for 20 minutes in the wrong direction I always double check things on Google Maps before proceeding.
Also, take the pricing indications with a grain of salt. A $7 tapas plate with about 5 calories on it is not $ in my opinion.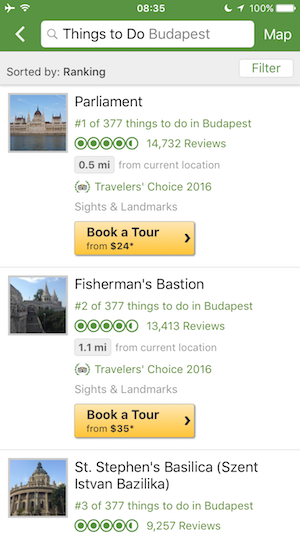 This one is a bit of a reversal for me–TripAdvisor used to be the actual worst site on the internet (no offense intended of course!). But sometime between then and now the app became really useful for figuring out where to go and what to see.
The only thing I use this for is checking out the 'things to do' section of the app, which is a sort of modern equivalent of reading the Lonely Planet highlights. There's also a lot of information in the ratings section about how to get tickets, how long the line is going to take, etc. Again, take things with a grain of salt since you may not fit the average user demographic ('the hike was impossibly difficult beware!'), but it can point you in the right direction.
You can also use TripAdvisor to find things like Coffee shops and Restaurants but I have better luck with the other apps above.

Getting from Point A to point B
#4 Rome2Rio (App+Website) – Door to door route-finder.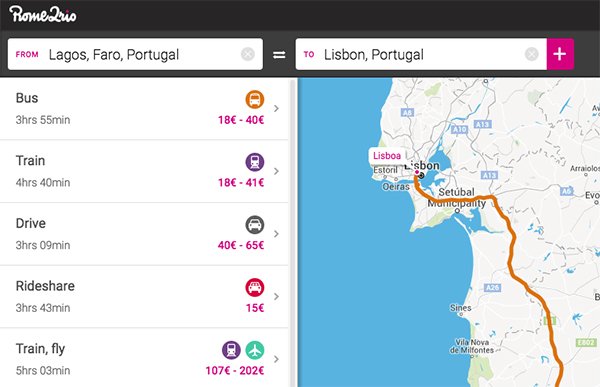 Although I've used it for some time, Rome2Rio was a mind-blowing discovery. As the image above shows, Rome2Rio will tell you all of the transportation options between locations, with pricing information and links to the key websites. This is how I find, for example, the right website to buy tickets for the train from Lagos to Lisbon.
It also shows the amount of estimated time each type of transportation will take, which you can then weigh against the relative cost. Super useful as a standalone website but I also use the app constantly.
#5 Tripit Pro  (App+Website) – Makes traveling (a helluvalot) easier.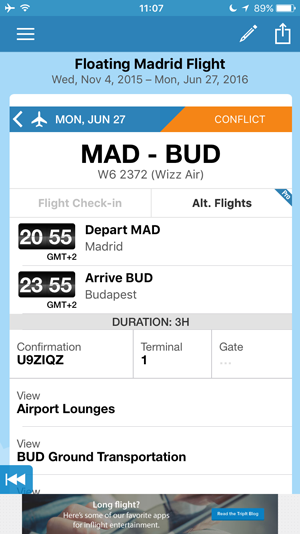 I have a recurring nightmare where I have an international flight in 2 hours but I can't find the exact flight information in time. This will never happen with Tripit. You simply open up the app and everything is there.
If you aren't familiar, Tripit will scan your inbox for flight, hotel, and other travel reservations and load them into their website and mobile app. From there you can instantly pull up reservation numbers, directions, flight times, check-in links, and anything else you might need. The pro version will also send notifications about flight delays and keep you (and anyone you share it with) up to date on the general status of your trip.
The greatest benefit is simply having all of your travel stuff in one place. It's a no-brainer for frequent travelers. I've been using it for a while, as you can see from the travel stats here: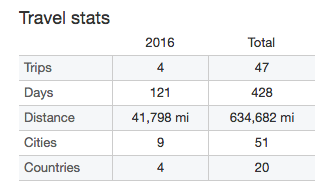 #6 Momondo (App+Website) – Finding Flights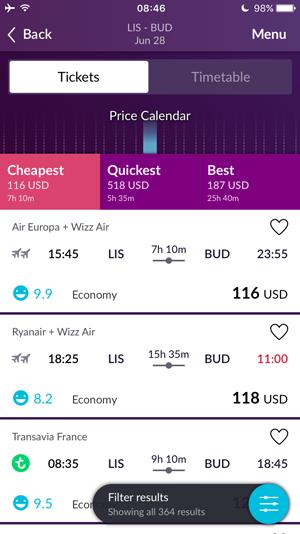 This flight search engine seems to find things that others don't, so it's my first stop for flight searches.
It's never a good idea to rely on one service though, so I always double check the flexible search option on Kayak.com, as well as go directly to discount airline sites (like RyanAir and Wizzair). I've also recently been playing around with Skyscanner and Google Flights a bit more, but Momondo is still my default choice.
#7 Uber (App) – On-call car service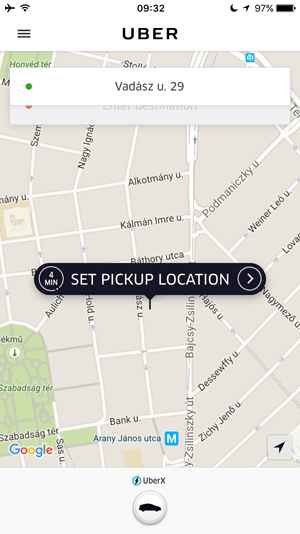 Ok, sort of obvious and well-known one, but a lot of us also live in a relatively small population bubble. Given the raised eyebrows when I mention some of our tried and true services, until proven otherwise I am not assuming people know about or would seriously consider using these services.
What happens when you arrive in a city at 1am and public transportation is shut down or going to take another hour to arrive at your destination? Simple, open the Uber app and in 5 minutes you're whisked away at (usually) a pretty reasonable cost (less than a taxi, but not less than a dedicated shuttle, though Uber will take you right to your door with no hassle/waiting for other passengers).
The downsides? Uber drivers aren't always available, it can actually be quite expensive, and since most of the taxi lobbies worldwide have fought Uber tooth and nail, the company has been banned from a number of places (like Spain). It's also apparently on it's last legs after organized protests in Budapest.
But where it works this link will get you a free ride on Uber if you haven't already signed up.

Staying Connected
#8 Google Voice (App mainly) – 'International' Number and Virtual voicemail
Most people may know about this by now, but if you don't: get a free US phone number from Google Voice with your existing Gmail account. When someone calls you the voicemail is transcribed and emailed to you. This will also show up as a notification in the app on your phone (a few seconds later).
I've never been a huge fan of being interrupted by the phone ringing, so even in the US I usually had my phone on silent mode (this is also why having a Skype-in number doesn't really work for me, but it's another option). Google Voice allows me to receive phone calls internationally which I can call back as needed. This is also how I immediately receive all voicemails and pins for account validation, 2-factor authentication for services, etc.

Web Stuff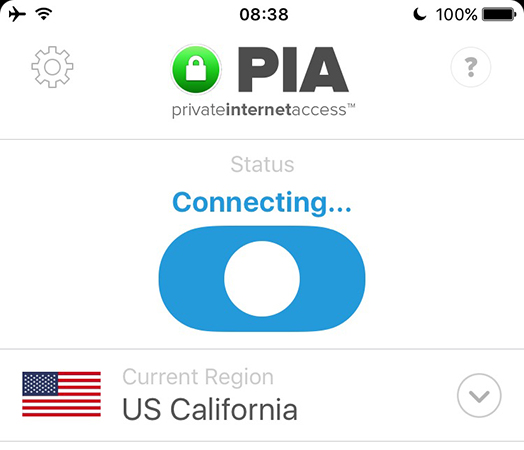 I'm not sure which is more amusing: that some websites think they can block access based on the user's location, or that many people don't know how easy it is to change. I use a VPN both for general security, such as connecting to a public wifi hotspot, as well as to appear to be access the internet from within the US.
Example: if you login into Paypal from outside the US there's a good chance they will shut your account off until you send in about 15 documents proving it's you. After doing this 5 times I now just change my location to California before logging in.
Another great use for a VPN is on your phone. Some carriers (Vodafone) apparently try to block Skype use on the network. And for some reason connecting to a VPN instantly solves this.
A caveat: this service is a little low-tech and buggy, but it's the fastest I tested using SpeedTest.net. I'd love to know if it actually encrypts anything (a little over my pay grade), but changing location is the main use for me.
#10 SpeedTest.net (Website+App) – How fast is your internet?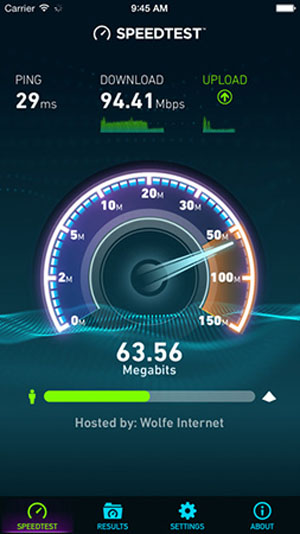 Another obvious one and a classic. One trick though is to have potential accommodation options check the wifi speed for you before you arrive. I always do this with any place I'm committing to for more than a few days, and most hosts will oblige.
I'll also pull out my iPhone and check connections before booking if I'm in a hotel or guesthouse (if I need internet that badly).

Accommodation
#11 Booking.com – Short term accommodation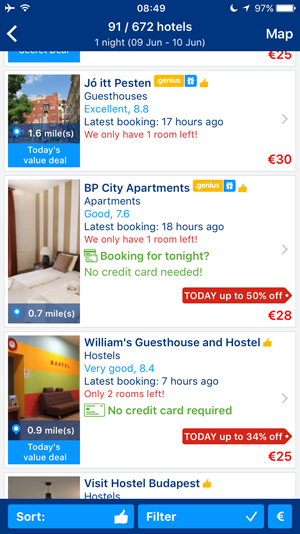 There are a couple reasons why I like this site: First, a lot of the listings have free cancellation up until a day or two before arrival. This solves a lot of the 'to plan ahead or not to plan ahead' dilemma. The other reason is a pretty good selection of decent, non-dormitory accommodation.
While Airbnb is great for longer stays, the need to interact with the host to get the keys, the looming threat of personal reviews, and the pretty exorbitant fee schedule make booking.com my first choice for any stay at 3 nights or less.
Another extremely useful thing about this site: the '% booked' meter can help you decide whether or not to go somewhere. Basically any place/dates that say over 90% booked and you're probably bumping up against a major event or high season. I've made a new rule to avoid any place at or above 90% and I check this whether or not I'm using booking.com for accommodation.
#12 Airbnb (Site+App) – Longer-term Accommodation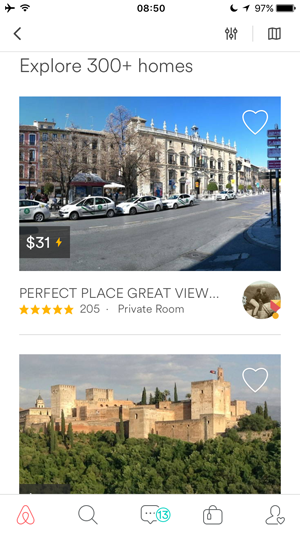 For longer trips Airbnb is a no-brainer. Although it can be a 100% markup on local prices if you book for a month there is usually a substantial discount. It's easy to fall into the trap of only looking on Airbnb, but either way it's a great place to start.
A couple key things I learned on this last trip about Airbnb:
Don't book anything that doesn't already have reviews.
There is no way to screen smoking hosts, so make sure 'no smoking' is specifically listed before committing (really important in places like Spain). It's incredible, but a lot of people still smoke.
Booking a shared house is usually just weird unless it's like a hostel with multiple rooms booked out.
Customer support is actually pretty damn good if you have a real issue.
For more on finding accommodation see this post on finding cheap accommodation anywhere.

Money & Budgeting
#13 Trailwallet (App) – Simple personal expense tracker.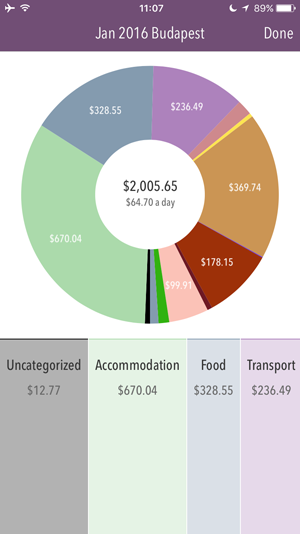 Despite the somewhat irritating cartoon graphics, TrailWallet is a great app for keeping track of expenses. I use it to track everything at the point of purchase, meaning I enter cost information about every purchase I make right when it happens. This is the only way to really track cash expenditures because you will never do it later.
If you're serious about budgeting, or have a strict travel budget, this is the only way to go. It also gives me some cool graphs about living expenses by country as well as by category which I hope to share later on.
#14 Xe.com (App) – Quick currency converter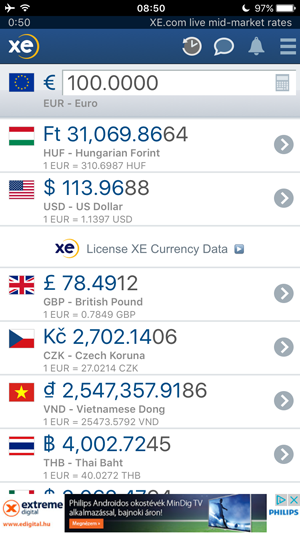 Great, simple app for converting between currencies. Very helpful when you want to know what 37,562 HUF actually means in USD.

Health on the Road
#15 Sleep Cycle (App) – Smart alarm and sleep quality app.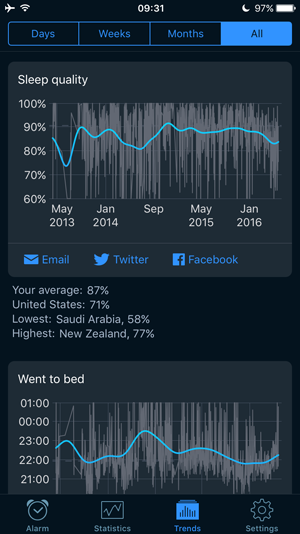 I have now used the Sleep Cycle app for 862 days, and it can tell me things like my average 'sleep quality' is 87%, and my average time in bed is 9 hours and 4 minutes.
While Sleep Cycle doesn't tell you the % time in various sleep state (e.g. deep vs light sleep), I find the overall quality score to be a pretty good indicator of how good I'm sleeping. You can also create tags to get an idea of specific things that kill your sleep quality, like for me drinking coffee after 2pm is game-over. Some of this has dubious statistical significance, but it's still interesting.
Sleep Cycle will also try to wake you up between deep sleep cycles, which has a notable affect on how you feel when the 'alarm' goes off. This app is admittedly more fun at home, since while traveling it mainly tells me how badly I'm sleeping, but it also has some great white noise settings to cover up that domestic dispute that inevitably happens at 1am through the paper-thin walls. Personally I'm a fan of blasting the 'heavy rain' sleep aid.
Another very cool thing to do at home is connect Sleep Cycle to your HUE LED smart lightbulbs, which lights up the room slowly when it's time to wake up.
#16 HRV4Training (App) – Overall health indicator.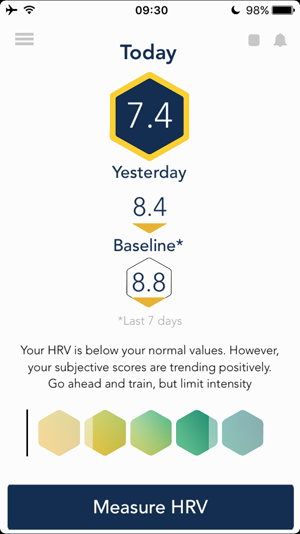 Exactly how much is traveling/not sleeping/drinking alcohol affecting your well-being?
Heart-Rate Variability or HRV can give you a good indication of things going on below the surface. The HRV4Training app measures your heart-rate variability when you wake up (via the flash+camera on your phone) and after some time it can give you great insights into your overall health.
I use this daily at home to get an idea of recovery from athletic training, and used while traveling can be a great indication of when it's time to go home (e.g. bottoming out on my scores in week 3 of this last trip).

Entertainment / Learning
#17 Casts (App) – Podcasts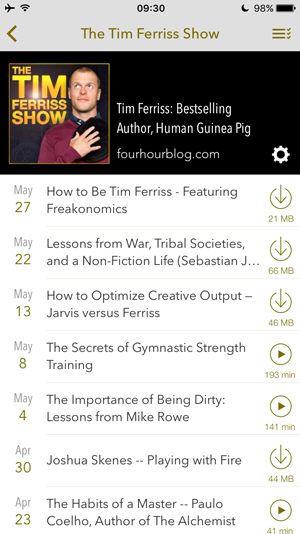 I was never happy with the original iPhone podcast app, and this is a major improvement.
Anytime I'm traveling or commuting, when I can't be reading, I'm probably listening to a podcast.
If you don't know what to listen to these are my default:
#18 Pocket (Desktop+App) – Save articles to read later.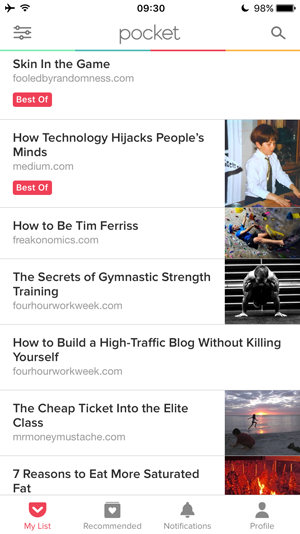 Pocket is the mini-magazine where you put together the content, mostly from 'add this' button in your browser.
Most of my reading happens on a Kindle, but the Pocket app is a great way to save things to read later. Load up the app with all the stuff you've been meaning to read but never can seem to get through when on your computer, and you have a sort of e-magazine with custom tailored articles.
That's it! 
If you have any other suggestions I'd be interested to hear about them!