What to Pack for a trip Around the World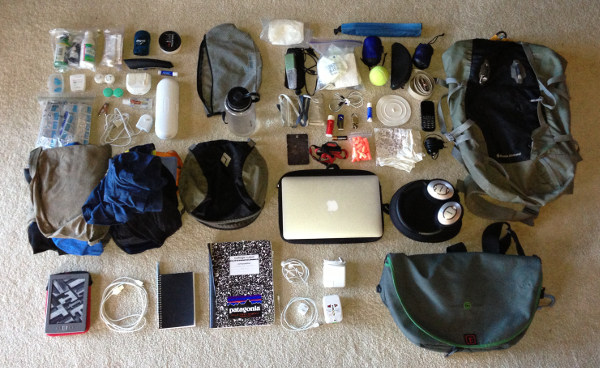 UPDATE: There is a newer pack list! Check out A Digital Nomad Pack List After 5 Years on the Road. It might also be interesting to compare how things have changed since 2013..
Exactly what does it take to live anywhere?
Last week I hopped on a 19-hour flight back to Indonesia with little more than a daypack, my laptop bag, and some surfing gear. It may not seem like much, but it's everything I need to live, work, and travel for an indefinite period of time.
I already wish I'd brought less.

Whenever I pack, the goal is to take the 20% of gear that will cover 80% of situations. If you ask yourself "but what if I do ____?" or think "this will really come in handy if ____", then leave it at home.
This rule alone eliminates most dead weight, like that camp stove or extra shirt you carried across 18 countries and never even pulled out of the pack. The secret to success for the mobile lifestyle is to bring as little as possible.
Besides the obvious perks of traveling light, like being able to pack in 15 minutes, walking on and off flights with nothing but a carry-on, and being able to tour a city for half a day with all your gear, there is an enormous psychological benefit to taking very little with you. It's hard to imagine until you've experienced it, but a "lightness of being" really emerges when you only have 2 pairs of clothing and 15 lbs to your name.
Remember: There are actual stores in other countries! With few exceptions you can always buy what you need later. I briefly considered bringing rock climbing gear with me for Thailand until I realized I could purchase everything I need there for $200, or have it shipped from the US. That's 3-5lbs of gear I don't have to lug around aimlessly or let decay in the tropics for the next 2 months.
A note on the gear list presented here: The kit below is currently optimized for living and working in a tropical climate, but it would be easy to upgrade to a pair of jeans and a down jacket if needed. A lot of equipment here could be thrown out if I was just traveling and not working on my laptop. But I'm in this one for the long-haul, so I brought the Spartan equivalent of the kitchen sink. Also note: Some of this gear is expensive, but I'm a fan of spending money on one good item, rather than a bunch of mediocre ones. I almost always buy closeout goods, so I rarely pay full price for anything. For discount gear in the US, check out places like Altrec.com, shop the REI sales, or just Google shopping for big discounts on last year's gear (e.g. the Sonar pack retails for $140 but you can get it for $50 on sale from REI).
Getting down to business:
Here's a picture I took at the Singapore International airport of my current backpack and laptop bag: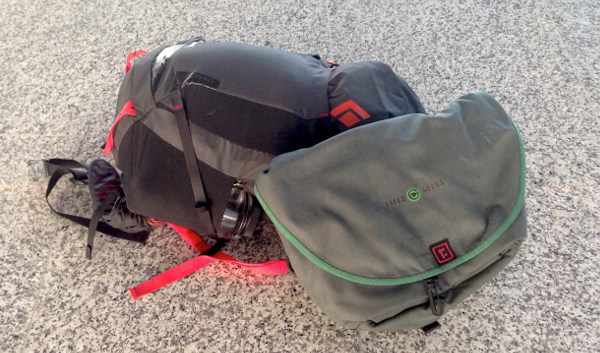 Featured: Brand-new 24L Black Diamond Sonar hiking pack, and a small laptop bag made by Rickshaw bags of San Francisco.
The backpack, which is my home-away-from home and everything I need to survive in the wild, weighs-in at just under 15 lbs (6.8 kg). I love this pack right now more than words can describe. Moving from a fully top-loading pack to the full access zipper is life-changing.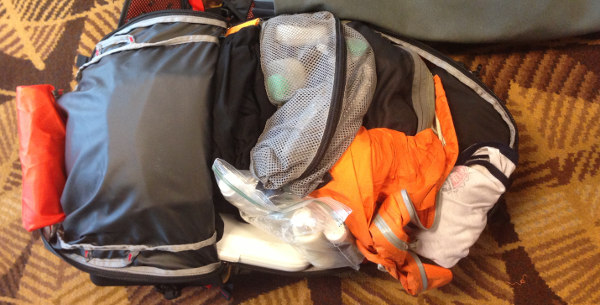 That thing I need is still at the bottom, but now I can get it without dumping everything out. I'll write more on backpack considerations later, but the Sonar won out of 5 other packs I considered based on weight, comfort, quality, and size (including the digital-nomad favorite the North Face Surge). Note that the Sonar has replaced the backpack featured at the top of the post, my 30L Black Diamond Speed, which I carried around the world for 1 year. If you aren't sold on backpacks: it's just the best way to carry things. Wheeled luggage is a liability once you leave the city. And quality backpacks are lighter and carry weight so much better than daypacks.
The fully-loaded laptop bag, which contains a full mobile office, everything I need to run an online business, weighs 6 lbs (2.7 kg). Getting a work sprint in on the way to SFO: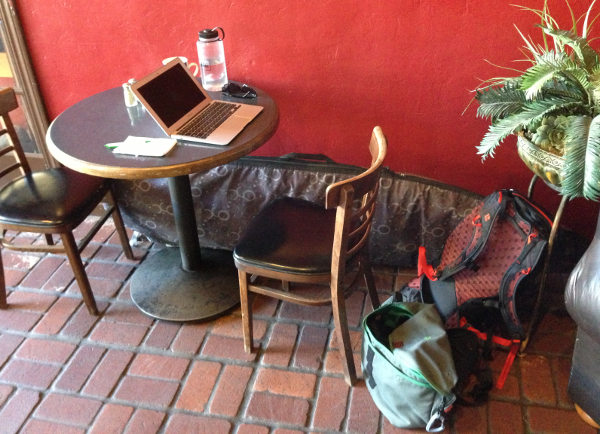 All told, my mobile life weighs a little over 20 lbs, and there's significant room for improvement.
Minimalism notwithstanding, I may have to change the name of this site after revealing this pack list. Among the most notable 'heavy' and relatively expensive accessories I opted to bring on this trip include are:
A Sonicare toothbrush – The "$100 toothbrush" (makes me slightly ill to think about) but it's worth way more in the ability to fix your teeth. It turns out that irregular trips to the dentist and a lot of travel are really hard on things.
Bose QC-15 headphones – Part of the digital-nomad lab and essential for working in noisy environments. Already proven worth the investment here in Bali.
A travel-mobility kit – Featuring a lacrosse ball, Voodoo band, and my plastic imitation foam roller (Nalgene bottle). Key gear for staying limber. For more read How I broke my body and then fixed it.
Surfing gear for Indonesia – all packed into the board-bag, not to be carried during the rest of the trip (likely shipped home).
None of this stuff is cheap, light-weight, or necessarily Spartan, but it fits into my general budgetary and weight constraints, so what the hell. If you throw these items out you'd be pushing a world class 10-15 lb total pack weight.
The SpartanTraveler World Travel Pack List:
Travel Clothing: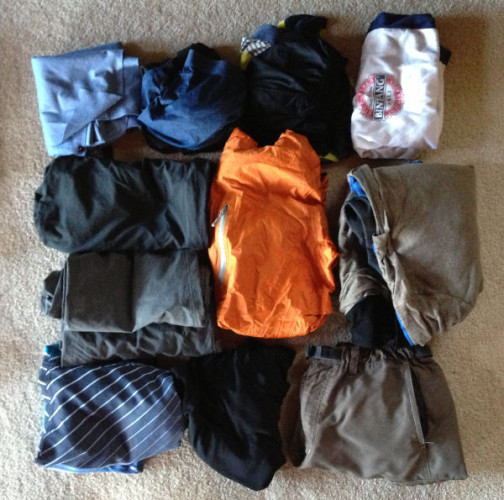 Most people are surprised by how little clothing I have, but this kit is even overboard for hanging out in Bali, where most of the time I'll be wearing nothing but board shorts and a tank-top (the same ones, every day, purified by salt water). The more you stick to one activity the simpler this gets, a la the 2 board-short 2 shirt surf trip. If/when I head to a cooler climate I'll drop a pair of shorts and add a fleece + a pair of jeans. Some of the excess clothing here is for later in the trip.
Here's what it looks like compressed: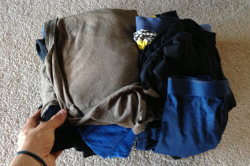 What's here:
(upper body)
l-sleeve Capilene top (Patagonia) – This + the rain jacket keeps me warm down to relatively low temps.
t-shirts (2)
merino t-shirts (2) (Icebreaker) – I was introduced to these last year in Indonesia. They just don't smell bad, no matter how many consecutive weeks you wear them. By the way, 4 shirts is overkill but I'm testing these right now.
rain jacket (Marmot) – Basic ultra-light version, not the Precip. Falling apart, but I've had this since 2006.
dress Shirt (Banana Republic)
tank-top (Bin-Tang of course) – I could use more than one.
(lower body)
boxers (2) (Patagonia cap 1 boxers) – My favorites, better than Ex-officio (lighter and less fabric).
boxer briefs (2) (REI brand) – Same idea as above but more sporty.
travel shorts (old-school REI Sahara zip-offs w/ custom zippered pocket) – I've worn these since 2007. Great travel shorts. I only plan to use the zip-on part for battling mosquitoes. The new ones are not as good as the old version – I'd look at other brands.
board shorts (2) – Quicksilver/Rip Curl. They aren't cheap but life really is better in a good pair of board-shorts.
dress pants (Patagonia Rock Craft Pant) – Stretchy climbing pants that double as slacks. I have an old version with a different color grey.
nice shorts (Patagonia Rock Craft Short) – Unplanned Brand duplication here, but these are unbelievably comfortable, stretchy, and shed water.
socks (3 pair)
UL hiking/travel shoes (Inov-8 F-lite 195) – My favorite shoes, ever. Minimalist, near barefoot, and comfy. Very popular with the CrossFit crowd for good reason.
Electronics / Digital-Nomad Mobile Office: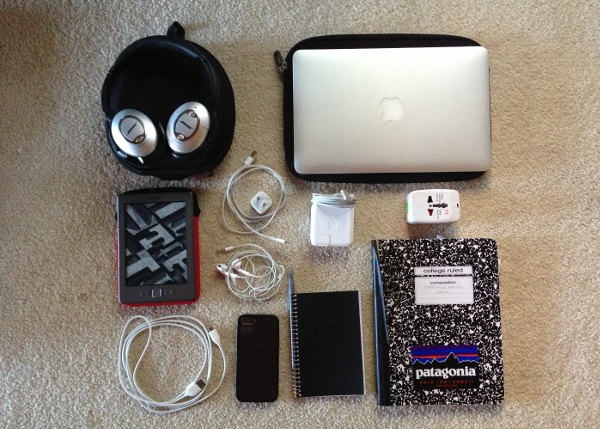 What's here:
laptop (11″ Macbook air + charger) – I was a PC user for 20 years, but the MBA is hands-down the best laptop made. It's so much better it's not even worth listing why. If you don't understand yet you probably haven't used one. Add to this the fact that the Air is 0.5lb lighter than my previous netbook, with a battery life of 6-7 hours, and… yep.
netbook case (Case logic)
international phone / Camera (Iphone 5 + charger + Lifeproof Nuud case + earbuds) – The unlocked Verizon iPhone 5 can accept international SIM cards + become a wifi hotspot. It's also my camera/video camera. I opted for the new case from LifeProof, which is waterproof but allows direct access to the touchscreen. I'm loving it. I'll be on the beach and in boats quite a bit, and traveling will kill an iPhone really fast.
reading material (Amazon Kindle + neoprene case + charge cord) – The plain Kindle is one of my essential items. Take a library with you and never get stuck reading a crap Tom Clancy novel again. Getting a Kindle in 2012 increased the number of books I read by about 1000%. Finish one and the next is just a click away. Plus, download any book you want from wifi. Game-changer. [update 12/6/13: stolen in Kuala Lumpur at a hostel. MF*&!)@]
USB key (not pictured)
work headphones (Bose QC 15) – As mentioned, a gamechanger for working in coffee shops. Already more than worth the price-tag for trying to work at Jiwa Juice in Bali. [update 12/6/13: still a game-changer, but frustratingly the headphone ear-pads are blowing out already. Guess I should have brought the case]
universal plug adapter – works very well for a cheap-o travel adapter, though it started dropping out of the European-style sockets recently.
Travel Essentials / Accessories: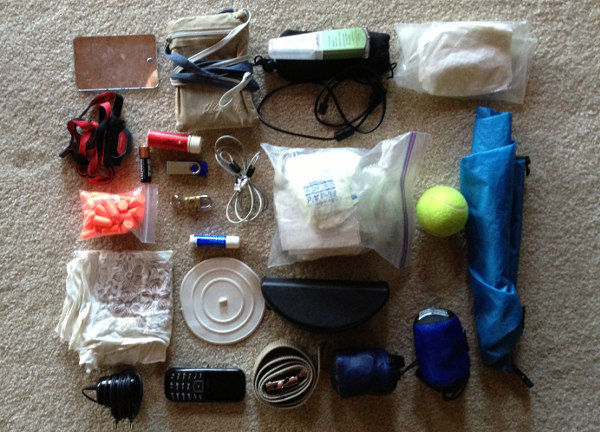 What's here:
passport + bag (customized Eddie Bauer travel pouch)
first aid kit – Absolutely essential. You can get to a pharmacy anywhere, but it's not fun with a puncture wound in your foot or when you can't make it off the bathroom floor. Nice to have some things ready to go. Most important tools here are Polysporin antibiotic ointment, prescription-strength pain-killers for when things get really bad, an irrigation syringe (for cleaning puncture wounds), tweezers, and something to settle your stomach (like chewable Pepto Bismol).
UL headlamp (Mammut S-lite) + spare AA battery – Lightest headlamp I could find that accepts a standard AA battery.
UL towel (MSR Packtowl Ultralight) – I opted for the full-size, needed for changing on the beach. [update 12/6/13: one thing I hate about these is they start to smell like a wet dog after a few days. Need to wash often]
sunglasses + case (Ocean / Julbo) – Finally opted for a good pair of sunglasses, case essential.
water bottle (REI Nalgene) – Doubles as a "foam" roller.
UV Water Purifier + Charger (Steripen Freedom) – Key for remote areas or where bottled water is outrageously expensive. Will kill everything in the water but won't filter sediment or other contaminants.
micro steel cable – Occasionally I feel the need to lock my backpack to a fixed object, e.g. when I'm sleeping on a bus.
mini-padlock
collapsible backpack (Sea to Summit Ultra-Sil Daypack) – Best daypack I've found. 20L that collapses into a palm-sized pouch.
leather wallet (not pictured) – I don't carry more in this than I'm willing to lose.
UL pack cover (Sea to Summit pack cover) – For rainy climates.
spork (Light My Fire spork, not pictured)
foldable travel bowl (not pictured) – Occasionally I'll buy breakfast food and make my own. This is the 'origami' pack bowl, a favorite for backpacking, purchased at REI.
handkerchief (doubles as an eyemask/dustmask/washcloth)
waterproof travel watch (Timex Digital Watch, not pictured)
journal (Mead Composition, college-ruled)
small work notebook
ear plugs
waterproof dry bag (Sea to summit Ultra-sil dry bag) – [update 12/6/13: note that all of my electronic gear fits in this bag. Key for rainy climates & I always keep it in my laptop bag.]
travel belt – lightweight nylon webbing
universal drain plug – portable washing machine
chapstick
* One thing that I threw out last minute was the GSM cell phone and charger when I realized I could use my iPhone. I thought it might be good to have a cheap one to use most of the time, but realized I could buy one anytime for $20. Note that the tennis ball was replaced by a lacrosse ball.
Fitness Gear: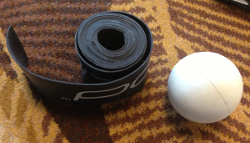 These are new additions and what I consider the bare minimum to stay healthy on the road.
What's here:
Bathroom Stuff: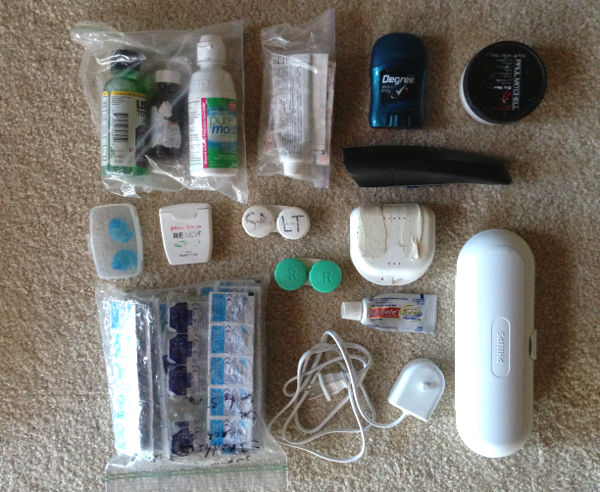 What's here:
contact lenses
contact solution
Part of the first aid kit – small bag with bandaids/polysporin. New-skin in the other ziploc (key for being in the water a lot, along with super-glue).
Sonicare Toothbrush + charger
flouride mouth wash
beard trimmer
sunscreen
prescription drugs
chapstick
UL polycarb mirror
mouthguard – keeps my from grinding my teeth to pieces.
emergency TP
hair product
hearing/ear water protection (Doc's pro Plugs)
Surfing gear:
I'll save this list for another post. But for fun, here's what packing for this trip looked like:
Things I'd like to throw out after the first week (and likely will):
2 of the 4 t-shirts – I mean, who needs 4 t-shirts??
Voodoo Floss Band – The lacrosse ball is the key. I wish I had a jump stretch band but the jury is out on the Voodoo for this kind of trip. Have used it at least 5 times though.
Steripen Freedom – I may need this yet, but right now I'm more concerned with water source. The Steripen is fantastic in a pinch, but it won't filter contaminants. I have no idea where water is coming from right now and I'm ok spending $1 a day on water (although I hate generating that much plastic waste).
The bowl and spork combo – this falls into the 20% rule. If I need a bowl I can always buy one.
Contact lenses and my eyeballs – Laser surgery?
That's it!
If you'd like to see an Excel version of the entire SouthEast Asia pack list, including weights of each item (yes I'm that obsessed), check out the spreadsheet.
I'd love to hear your thoughts on travel gear. What do you take?
[UPDATE: 12/6/13: So a few things have changed in the last few months in Indonesia and Thailand. Here are the gear subtractions:
Steripen freedom and charger (sent home)
All surfing gear (left in Indonesia for later)
GoPro (sent home)
Kindle (stolen)
2 pairs of cheap sunglasses (broken)
1 pair of Havianas (broken)
bottom half of my REI sahara's (sent home)]