A Digital Nomad Pack List After 5 Years on the Road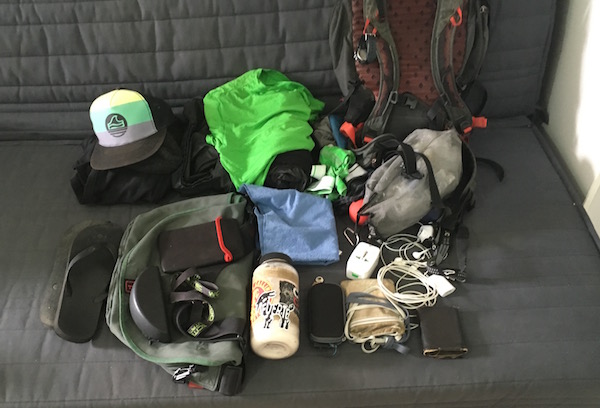 What happens to your gear when you never go home?
More specifically–after nearly 5 years on the road–what time-tested equipment am I still willing to lug around in a backpack?
In late 2013 I left the US for a second trip around the world. That trip never really ended, and my original SE Asia Pack List had to survive a number countries, seasons, and activities that I'd never anticipated.
It's now May 2016 and the core of my kit remains largely unchanged.  Here are the two biggest discoveries/upgrades to the list:
The biggest challenges to the original pack list were:
Cold weather, including my first winter in 3 years (spent in Budapest!).
More demanding health and fitness requirements (meaning little or no sacrifices of health or fitness routines while traveling or working).
Scaled-up work efforts (meaning the need for a more powerful laptop and some higher-end office gear).
The ongoing fantasy of a Jason-Bourne meets Ueli Steck gear kit and wardrobe (as in I want to have an ultra-light clothing kit that looks decent, but will hold up well if I decide to rappel out of the office window on a daily basis).
More gear-centric activities (eg surfing, rock climbing, skiing, etc).
The realization that I don't actually travel that much anymore – Yes, I made it to 6 or 7 countries last year, but I spend most of my time living in one place and using that as a base of operations.
It may seem like all of this requires more stuff, not less, but my overall travel pack weight has actually decreased. There are a couple reasons for this:
The time-tested knowledge of what 20% of gear gets me through 80% of situations.
Figuring out what/where I can buy things to fill in the gaps (eg. H&M, rock climbing stores, etc)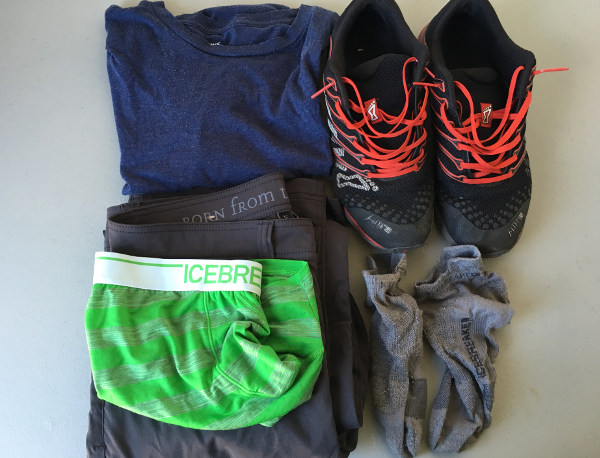 Turns out I'm pretty happy to wear the same clothes most of the time, with a little variety provided by an extra t-shirt or two. The photo above shows a set of clothing that can get me through 95% of travel situations.
Weight and Space Considerations
Here are my target travel specs: maximum 15lbs/7kgs in the backpack and as little as possible in my laptop bag.
My last extended trip (5 weeks in the US and Mexico) I hit 6kg in the backpack. it's hard to describe the ease of travel at that weight.
While you'll find lighter gear kits out there, I've come to terms with the difference between serious travel and long-term location-independent living. Moving less means a little extra weight can help create some baseline level of comfort and consistency. I'm also in the process of building a business, as well as ongoing physical training, and everything centers around facilitating productive output.
These days I modify that pack list for 3 types of travel:
Going fast and light – trips around 1-5 weeks (first video above, while moving through S. Spain)
Location independent living – Staying in one place for 1-6 months.
Base of operations/Mission Control – Same idea as #2, but with a lot more gear.
Traveling from a base of operations
When I travel now it's typically a combination of all 3 of these. I tend to move in shorter bursts with an ultra-light travel kit while storing a larger amount of stuff in a regional base. I've done this in a few places now, including Chiang Mai and Budapest. It's a good idea to make friends with someone who owns a house or runs a CrossFit gym.
Establishing a base may mean I have to move a large duffle or surfboards regionally, or mail a box of stuff, but I try to avoid doing this very often. I also buy gear and leave it in a location for later, e.g. travel caching. Once I've got a base established I can travel with the gear kit below but keep doing what I need to do. This makes basing yourself in places like Chiang Mai and Budapest particularly appealing for exploring the region.
As an example, after living in the Canary Islands for 3 months I mailed 2 large duffels (via the post office) back to Budapest at a cost of about 70-90 euros each. While not the cheapest, the price is totally worth traveling unencumbered in Southern Spain and Portugal for the next 3 weeks. This gear also allowed me to do a bunch of cool activities while living in the Canaries (e.g. surfing, kitesurfing, and participating in the CrossFit Open).
A important note for those starting out:
You don't need to buy a bunch of expensive gear to start traveling. In fact, don't buy anything. Take what you have and as little as possible. Keep in mind that I've been on the road since July 2011–professionally since mid 2012–and this kit didn't come together all at once. There is no need to buy, for example, a Macbook Pro unless you're actually doing some serious work, and this kit is specific to location-independent living, not just traveling. For fun, check out the $280 netbook that I started my business with.
What I've detailed below is a bit of a hybrid pack list for longer trips since it includes cold weather gear. As you can see in the video at the top of the page I've already sent a lot of this stuff home.
The Spartan Digital Nomad Gear Kit for 2016
*Note: not everything is featured in the photos, nor is it organized very well for mass consumption but I made a handy video and tried to link to everything.
The Mobile Office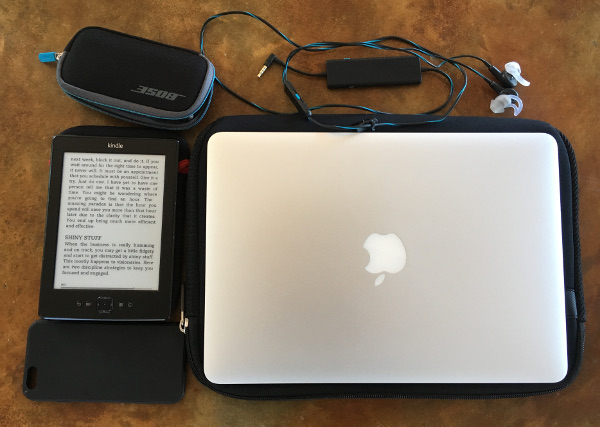 The biggest upgrade here is the need for serious computing power. Stakes are a bit higher these days in terms of getting effective work done, and I can't make compromises on this part of the kit.
A few additional observations about these:
The battery life is fantastic, easily solid day of use or longer.
They are virtually weightless and take up almost no space.
You can fall asleep in them – just turning noise cancelling on is like a supercharged earplug.
Biggest Downside: The design. Specifically where the battery sits + the connector needs some work (it should be moved up the cable toward the ears). It's fine when plugged into a laptop as the connector makes a right angle and the battery sits neatly to the side. Problem is when you connect your phone (or try to put it into the insanely small case) and place it in your pocket you have a major kink which is clearly going to decrease the longevity of this thing. After my Bose QC20s literally disintegrated after 2 years I'm not convinced these products have the best durability. I thought I would use these more while traveling but they are much better suited for sitting down and setting up the work station. That said, as I write this in the middle of the Denver airport (during Holiday traffic) I can't hear anything and happy to use these as long as they last.
All compromises aside, well worth the investment if you're trying to get things done. Hopefully there will be new and better models of this kind of thing in the near future.
Some accessories: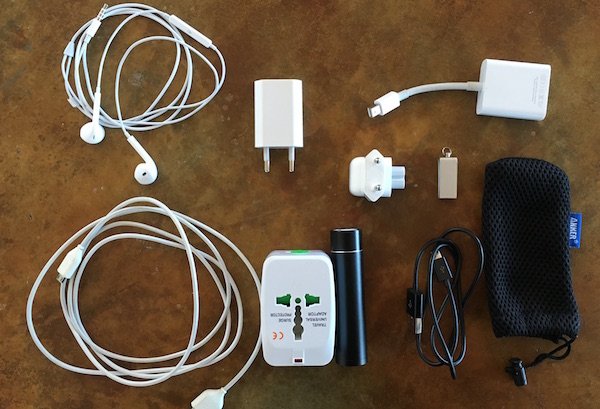 Small USB key (unchanged)
A lightning adapter for an external monitor. In case I have the opportunity to go dual-screen.
A couple European plug connectors. It's a drag to use a universal plug adapter all the time so I swapped out the default connectors on all plugs.
Universal plug adapter – works very well for a cheap-o travel adapter.
A backup battery charger for the iPhone (2.5 charges). I threw this out after upgrading to a new iPhone but it's still a 'nice-to-have' item for long travel days.
The Backpack and Laptop Bag
If I was going to upgrade this I would *strongly* consider the gear that Minaal makes. Check out the all-around digital nomad backpack and carry-on combo (which recently raised over $700k on Kickstarter).
A note about why I carry two bags:
I learned this trick from multi-day backpacking trips. At some point on a big hike the idea of taking off your 50lb. backpack (yet again) to get the map/compass/sunscreen/whatever is too much to bear. A friend of mine always solved this dilemma with a simple add-on compartment, like an over the shoulder fanny pack. That way you can access the small frequently used items without disassembling the entire kit.
That's how I use the laptop bag here – the ready accessible laptop bag always has my plane tickets, passport, kindle, laptop, iPhone, snacks etc so I never have to stop and take off the backpack to get where I'm going. Sounds like a no brainer but simple things like this are what make traveling easy.
Travel Clothing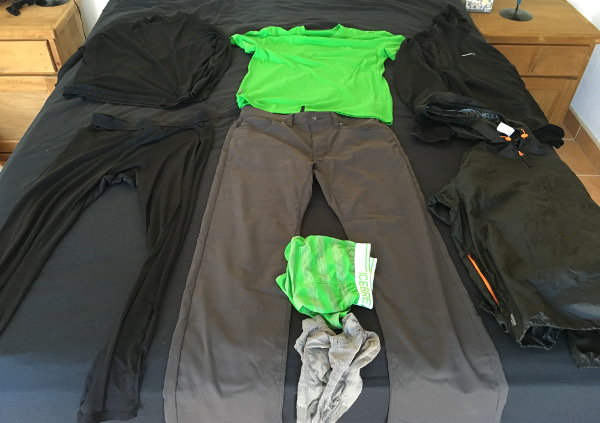 What's here:
(upper body)
Merino wool long underwear top (Icebreaker Everyday Crewe) – The difference between comfort and discomfort in cold climates is long underwear. I tend to interchangeably use a set of Patagonia Capilene and Icebreaker Merino depending on the temperature (merino is a bit warmer and goes much further without washing).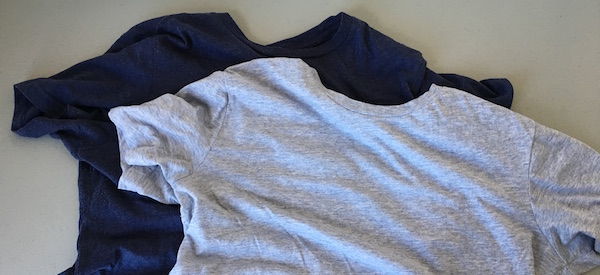 Basic t-shirts (2) from H&M – These $5 shirts are lightweight, comfy, surprisingly durable, and a bit more stylish than your typical travel shirt.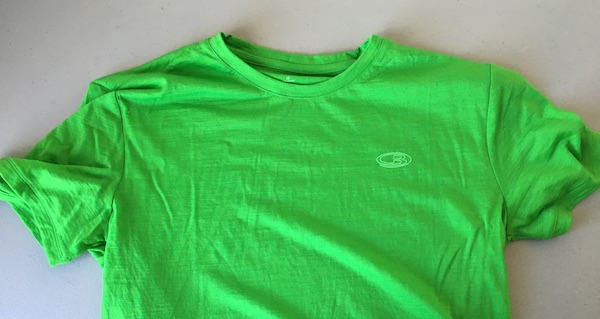 (lower body)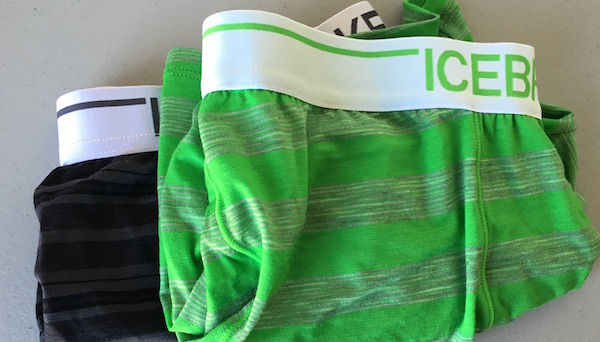 Merino Wool boxer briefs (2) (Icebreaker) – These are amazing and really go the distance traveling They're also smaller and use less fabric than some of the other popular travel brands. Only downside is they don't last forever.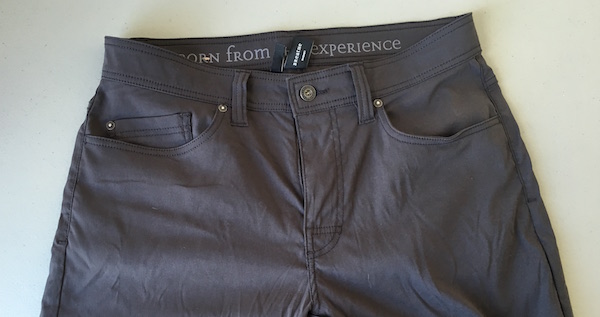 Travel/Dress pant (Prana Brion Pant) – Hat tip to my buddy Scott for this one, but I believe we've solved the travel pant issue. They look like a normal pair of pants, interchangeable as dress/travel/climbing pants. The secret lies in the technical fabric and durability of the material. One of my oldest pieces of gear are Prana Stretch Zion which I've rock climbed in since 2005 (that's correct, 11 years). These new pants look good (finally get to ditch the side pocket) and will probably last forever, and they cost a reasonable $70.
All-around travel pants (Patagonia Rock Craft Pant, no longer made) – The original stretchy climbing pants that double as 'slacks'. I've worn these unchanged since something like 2010 and they still look new. The upgraded versions (see Patagonia Quandary Pant) seem better: a slimmer cut and different inseams.
All-round travel/dress shorts (Patagonia Rock Craft Short, now call the Quandary Short) – The same pair, unbelievably comfortable, stretchy, and shed water. The also look pretty decent.
Board Shorts (2) (Rip Curl Mirage)- I use these for any kind of activity, CrossFit, surfing, rock climbing, hitting up the bathhouse. My favorite are the Rip Curl Mirage which you can usually find in the US for $30 a pair online. A staple, and I usually have one or two pairs.
Merino Wool Socks (Icebreaker) – Same deal here, these really go the distance.
Random socks (3 pair)
UL hiking/travel shoes (Inov-8 F-lite 195) – Still my favorite shoes, ever. Minimalist, near barefoot, and comfy. It literally hurts me to wear other shoes at this point. I've been through 3 pairs of these since I left.
Fitness/Mobility Accessories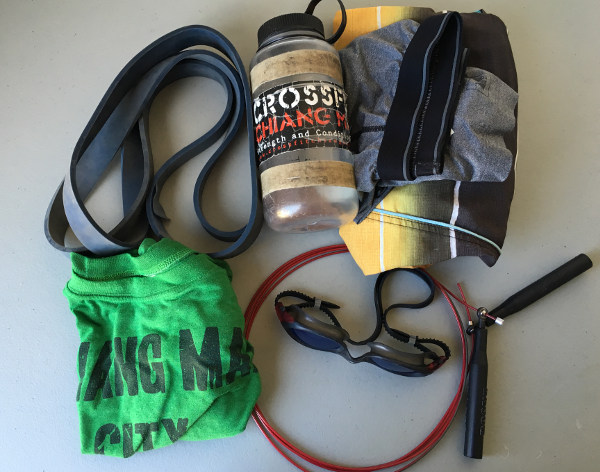 For longer trips (e.g. a couple of months) I throw in a few items to make sure I get good, consistent workouts and keep the nutrition program going.
Speed jump rope (Rogue) – Takes no space, a great workout tool to take everywhere.
7 days worth of supplements – The staples: Fish oil, Vitamin D, Magnesium & Zinc (Pure Pharma, note I have the individual bottles not this pack), Vitamin B Complex, whey protein. I'm playing around with a particularly nasty (in a good way) travel cocktail of chocolate whey protein, 'Green' powder, and MCT powder (which I can't seem to find in Europe), mixed up and stored in the Nalgene bottle. Here's where I learned about MCT powder. Note that you can often buy good supplements at CrossFit gyms, or order them ahead to a destination via the amazing iHerb.com.
Lacrosse Ball – Never leave home without it. More on fixing your body.
Water bottle/'foam roller' (Standard Nalgene) – Key mobilitywod tool and great for storing food/powders etc.
Swim Goggles
My trusty $1 Chiang Mai City workout shirt.
Synthetic Boxer briefs (REI brand)
Compression Socks. Not shown and not used except for long-haul flights. These make a huge difference on 10+ hour flights.
Note: Image shows a blue jump stretch band but I threw this out last minute as I knew I'd have unlimited access to a CrossFit gym.
Fitness gear for longer trips, e.g. a few months:
Workout shoes (Reebok Nano 4.0s) – I don't always carry these around but it makes my Inov-8's last a lot longer. Plus it's a tougher, more stable shoe for weightlifting.
Powerlifting shoes (Inov-8 FastLift 335) – Typically stashed with my gear in Budapest but light enough to carry around if needed.
Travel Essentials /Accessories
Passport + bag (customized Eddie Bauer travel pouch) – (unchanged)
UL towel (MSR Packtowl Ultralight) – Still going with the original.
UL headlamp (Princeton Tec Byte)- A big change I made about a year ago was buying a headlamp with a red light setting to avoid disrupting circadian rhythms. If you're still exposing yourself to blue light before bed you may want to think twice about it (iPhone/computer screens, any white light). Check out the book Lights Out: Sleep, Sugar, and Survival for more.
Sunglasses + case (Ocean / Julbo) – Same ones.
Micro steel cable – Haven't used this in a long time but occassinsaly nice to lock things up.
Mini-padlock – The same one I 'borrowed' from a hostel in Guatemala in 2011.
Collapsible 20L backpack (Sea to Summit Ultra-Sil Daypack) – Has a few holes but still going strong and really great for day trips. Weighs nothing and takes up no space.
Leather wallet (not pictured)
UL pack cover for the backpack (Sea to Summit pack cover) – For rainy climates.
Eye mask – Free one I got on British Airways.
Waterproof travel watch (Timex Digital Watch, cheapest one you can find) – Good to have an extra alarm, also used for swimming/running etc.
Journal (Mead Composition, basic college-ruled) – It's a bit heavy but I still enjoy journaling from time to time.
Ear plugs – Absolutely essential.
Waterproof dry bag (Sea to summit Ultra-sil dry bag) – Full of holes at this point but still useful.
Travel belt – Lightweight nylon webbing I bought in Panama for $1.
Portable washing machine (Universal drain plug) – Not using much these days but always keep it in there.
For longer trips:

A latte whisk. This is my sort of hilarious concession to bullet-proof coffee and green tea, along with:
A small tea strainer
Bathroom kit
Contact lenses + contact solution – Yes, I still haven't gotten laser surgery (but hoping to this year).
Sonicare Toothbrush + charger – Still one of the major concessions I make for traveling long term. Really saves the teeth. On shorter trips I throw this out.
Beard trimmer – Cheap super light one, bought in Panama for a few bucks.
Sunscreen (Sunbum) – Known and loved by surfers worldwide. Suncsreen is a toxic sludge. Do your homework on this one.
Chapstick
Hair product
Deodorant
Cactus tweezers
Nail clippers
Travel Gear you can Buy on the Road
There are a number of things you might want to have for a longer stay somewhere. My advice is to buy them if needed.
Take it from someone who hates shopping for clothing more than anyone: you can get the following just about anywhere:
jeans – never worth traveling with these for the weight.
sweatshirt/hoody – always easy to get a warm layer somewhere.
cheap t-shirts – for working out, hiking, wearing around the house.
'dress' shoes – My favorite find so far are the 10 euro H&M sneakers I've worn for the last year.
climbing gear – e.g. a pair of shoes and a harness. You have to make new friends to climb anyway, and hopefully they have a rope and quickdraws (and local knowledge).
surf gear – most surf towns have cheap boards to rent or buy, which you can sell back. Wetsuits, booties, etc, are also available.
anything a pharmacy sells – trust me they are everywhere on earth. You don't need much of a first aid kit unless you're going way out there.
camping gear (at least in Europe) – just go to Decathlon.
Closing thoughts
While it's fun to talk about gear, the focus here is still on facilitating an adventure with as little baggage as possible. In general that means taking as little as possible, investing in good gear that will last a long time, and periodically giving away what you don't need.
Would love to hear your thoughts and suggestions, or a favorite travel item that I missed.