How I Flew Around the World for Less than $220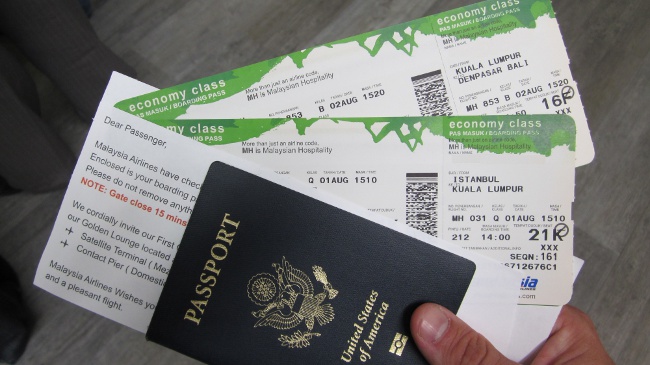 Last Update (2/6/15):
Also check out my FAQ on the best frequent flyer credit card. It's a quick read and will give the main points + show you where you can get one of these cards today.
—
This year I flew around the world and visited 11 countries over a period of 6 months. The cost of my 'round-the-world' ticket? Less than the price of a domestic flight in the US.
Can you do the same thing? Absolutely, read on:
Budapest, Hungary—It's a question I got more than once: "So, are you rich?" And, more specifically: "How can you afford to travel so much?"
These questions are upsetting because they highlight the dominant perception that travel is a luxury restricted to the wealthy. And I don't like people thinking I can only afford to do this because I'm rich (far from it).
In fact, for the last 15 months I've been living on a stipend that most people would associate with the poverty line in the United States, or about $1200 a month (see 20 things I Learned While Traveling around the World).
But international flights are expensive, no matter how cheaply you decide to live once you get to your destination. I thought trans-oceanic flights would be the death of my RTW travel budget.
I couldn't have been more wrong.
My Round-the-World (RTW) Flight Itinerary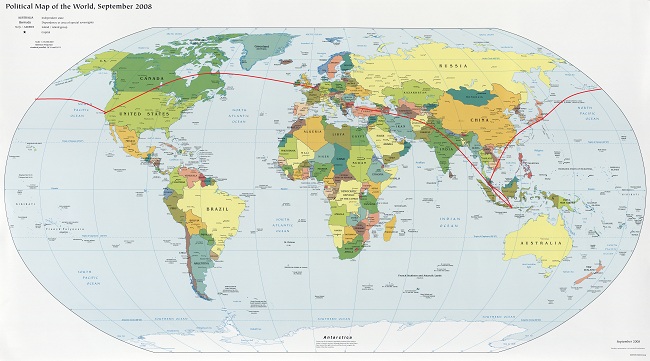 April 3rd, 2012 –  San Francisco (SFO) to Brussels (BRU). Cost:

$7.50

August 1st, 2012 – Istanbul, Turkey to Bali, Indonesia. Cost: $0.00*
September 29th, 2012 – Bali to Kuala Lumpur, Malaysia. Cost:

$140.00

October 2nd, 2012 – Kuala Lumpur to Los Angeles (LAX) via Tokyo. Cost:

$72.00

On the same day I flew from LAX to SFO for

$0.00

.
Grand Total:
$219.50
And here's the punchline: the only reason these flights cost me anything at all is that I opted to pay for the really cheap ones. That's correct, I decided to pay actual money for them. You'll understand why below.
* It's easy to cross the the entirety of Europe for as little as $25 on RyanAir or EasyJet. More on that in another post.
The (Not So) Big Secret: Credit Card Airline Miles
Airfare for my round-the-world trip, as well as for all other international flights I took this year was 100% funded by credit card reward miles that were credited to frequent flier programs.
If you live in the US you've probably seen these credit cards, which typically offer 30,000-50,000 bonus miles for signing up and spending a few hundred (or thousand) dollars on the card.
It's simple on even a limited budget to get the benefit from these cards–all you have to do is sign up and commit to using the card for a few months. Once you meet the requirements and the bonus miles are credited to your frequent flier account.
I've personally accrued over 800,000 airline miles through rewards cards.
That's right. What I said before about living near the poverty line might not be accurate, because I'm filthy rich in airline miles. But you don't need hundreds of thousands–you can fly one way to Europe for as little as 20,000 miles.
Sound too good to be true? It's not, assuming you live in the US and have any kind of credit (unfortunately, these offers are rarely available outside the US).
You don't have to be extremely worried about your credit score either. As a result of never carrying a balance and using these cards for most purchases I have excellent credit. One of the last cards I applied for—the Starwood Preferred Amex—automatically approved for a $20k opening line of credit. The master of this entire realm has some hard data to show that applying for 13 credit cards at once only affected his credit score by about 4%, or from the 98th to 94th percentile.
I've signed up for most of the best available credit card offers over the past 5 years, and I've listed my favorite cards below.
Cost of my round-the-world itinerary in Airline Miles (and associated fees/taxes):
San Francisco => Brussels (American Airlines) –

20,000 miles + $7.50

(American Airlines Miles)
Istanbul => Bali (Malaysian Airlines) –

40,000 miles + $0.00

(CapitalOne Miles)
Bali => Kuala Lumpur (Air Asia) –

$140.00

(I decided to pay for this to save miles)
Kuala Lumpur => Los Angeles (American Airlines) –

35,000 miles + $72

(American Airlines Miles)
Los Angeles => San Francisco (American Airlines) –

5,800 miles + $0.00

(CapitalOne Miles)
Grand Total:
100,800 miles and $219
If you're thinking "that's great but I'll never spend enough to get 100,000 miles" you should know that  one of these cards during a big promotion gave me 100,000 miles just for signing up. That means my entire round-the-world itinerary was paid for in about 5 minutes.
That same card is still offering enough miles to fly round-trip to Europe, free. So, what the are you waiting for?
How to Get 50-100,000 Airline Miles in 20
minutes
Just follow the simple, 7-step process…
Step 1: Sign up for the American Airlines Advantage Card
Total time: 10 minutes. Rewards earned: 50,000 American Airlines miles as of 1/30/15
This is the heavyweight of my travel strategy. The reasons: a) you can get both personal and business cards that feed into one miles account (which means double miles), b) American has the most discounted frequent flier program I've ever seen (meaning you can fly for less miles than any other program), and c)  you can get bonus miles through several different offers.
For example: in January I flew from Montevideo to San Francisco for 20,000 miles (the equivalent of about $200) + $129 in taxes (because I booked less than 1 week ahead).
Then (see the RTW itinerary above) I flew to Europe for 20,000 miles and $7.50 in fees, and later was blown away to find a route home (via Japan Airlines) from Kuala Lumpur to LA for only 35,000 miles + $72.
It's important to understand that you can use American Airlines miles on any of their partner airlines as well—all you have to do is call in and ask.
Added bonus: I was told by a rep on the phone that when you make a reward travel reservation, that reservation is good for a whole year. Meaning that if you don't feel like showing up that day, you can rebook the flight any time in the next year for free, as long as that same reward offer is available (which it most likely will be if you book a month or so out).
Also: You get a 10% yearly miles bonus for miles redeemed on airfare. There are also bunch of added perks when flying American, like first bag checked free, priority boarding, and 25% off in-flight purchases.
I use the AAdvantage Visa for all of my online purchases. Unfortunately the card has a foreign transaction fee on purchases outside the USA, so I leave it at home but use it for buying things online, as well as use it as my default business card.
Fine Print: Each of these cards is different, but they generally give you 30,000-50,000 miles for spending $1,000-$3,000 in the first 3 months. The annual fee varies, up to $95 but waived for the first year. You get 2 miles for every dollar spent. Re-deeming miles is simple with the online interface or calling in.
Take some action:
Step 2: Sign up for the CapitalOne Venture Rewards Visa [update 1/30/2015 OR the Barclay Arrival Plus World Plus Elite Mastercard)
Time required: 5 minutes Rewards earned: 30,000 40,000 miles
8.7.13 UPDATE:  You can can get this same bonus now with the Barclay Arrival World Mastercard – 40,000 mile bonus after spending $1,000 in 3 months, 2x miles on all purchases, 10% bonus on redeemed miles, and best of all: use the miles on any airline. Just buy your ticket and 'erase' the purchase later. Note if you are super-broke there is a no-fee version of this card available too.
Update: Unfortunately  looks like CapOne canned this offer right as it went to the press! Don't worry about it because there are plenty of other offers out there, and they will almost certainly offer a large bonus again at some point down the road.
These cards doesn't seem to be as popular as others, but here's what makes it amazing: these miles are good on any airline and you can retroactively apply airline miles credit to transportation purchases that have already been made.
So, for example I find a screaming deal on a flight from Istanbul to Bali for $400 and charge it on my CapitalOne Visa. A week or two later I log into my CapitalOne account and click on 'Manage Rewards=>Purchase Eraser'.

There you'll see a list of all qualifying transactions. Just click the check box next to the $400 charge and click 'Redeem' miles. Voila, your purchase disappears. Thanks for the free flight, CapOne.
This card also gives you 2 miles for every dollar spent. While on face value this seems like a better deal the AAdvantage card still comes out the winner with it's super discounted reward travel. CapitalOne also don't charge any taxes or fees for these reward redemptions.
Believe it or not, you can also use the miles to redeem just about any transportation purchase, like buses and trains.
I often use the CapOne card to pay for the taxes/fees charged for American Airlines Reward travel. If I had done this on my RTW itinerary above I could have flown around the world for free, but I like to hoard large balances (90,000+ miles or so) for major flight purchases (as opposed to whittling the account down by 14,000 miles at a time).
The other bonus is that both of these cards have no foreign transaction fees, so I use them for all daily purchases where I can use a credit card. I also have the CapOne Sparks Business card which I use for daily business transactions.
Fine Print: You get 10,000 miles just for using the card once, then another 20,000 miles 10,000 miles if you charge $1,000 in the first 3 months. The card has an annual fee of $59 that is waived for the first year.
Take some action:
Update 1/30/15: I'm no longer recommending the card below:
Step 3: Signup for the Starwood Preferred Amex Credit Card
Time required: 2 minutes Rewards earned: 25,000 Starpoints
This card is recommended heavily by other digital nomad types like Ramit Sethi and Maneesh at HackTheSystem. I just signed up for it so I can't pass final judgment, but since I don't book hotels and American Express is not as useful as a Visa it isn't my favorite at this point. The card has a relatively high spending amount to get extra miles, but it does have some bonuses:
Starwood points are good for booking on just about any airline (plus hotels).
Starwood points transfer to most frequent flier programs on a 1:1 basis.
There's a 25% bonus for transferring 20,000 Starwood points to a frequent flier program (which I'd recommend – you get 5,000 Starwood points free for every 20,000 points converted into miles)
In general, you get 1 Starwood point for every dollar spent. I haven't looked into transferring Starwood points to my American Airlines frequent flier account, but that's what I'm hoping to do.
Fine Print: You get 10,000 Starpoints just for using the card once, then another 15,000 Starpoints if you charge $5,000 in the first 6 months. The card has an annual fee of $65 that is waived for the first year.
=> You can sign up for the Starwood Preferred Amex here.
Total Time Required:
20 minutes
Total Airline Miles/Points Earned:
~40,000-150,000 miles.
But wait, there's more…
Step 4: Make a spreadsheet or write down today's date, the cards' spending deadlines, spending amounts, reward miles and annual fees.
Most of these cards give you a bonus for simply using them once (for any amount), but they reserve the bulk of reward miles for reaching a specific spending amount.
Don't sign up for all of these cards at once if you don't think you can hit the spending requirements!
You may want to sign up for one card a month as you ramp up. There isn't much point in being extremely aggressive if you aren't going to get full rewards.
Note that most cards waive the annual fee for the first year. It's important to keep track of these fees though, or you might find yourself with $500 a year in annual fees from cards you aren't using. No big deal, the value still far outweighs the fees here.
Step 6: Make sure all possible spending goes on your rewards cards
I don't spend that much money, [update 1/30/15 That's no longer exactly true] but when I lived in the city and had a real paycheck I siphoned a lot of purchases through my AAdvantage Visa. I used it for everything: all automatic charges like gym memberships, Netflix, insurance, and anywhere I would normally pay with cash (including the bar, coffee shops, grocery stores, etc).
Of course, I've never carried a credit-card balance in my life, and I've never been in debt. Ponder these two things carefully before you walk down this path.
Step 7: Wait for the miles to roll in…
That's it, you're on your way to a free round-the-world trip, or whatever you want to do. Note that the miles might take 90 days or so to accrue to your account, so plan accordingly.
Now you just have to figure out how to free up your time to use them.
How to Fly Around the World with Airline Reward Miles
It's easy to use airline miles you've accrued, just log into the online interface that each card has and click on 'rewards,' or call customer service.
Here are some things to keep in mind:
Book early to avoid fees. For example, with American you have to book more than 2 weeks out to avoid a $129 late-booking fee. Generally though, taxes and fees are pretty minor.
Call in for better deals (vs using online interface). The agents at American Airlines are ridiculously helpful and they've found me deals I couldn't have imagined (flying home from SE Asia for $72). The web interface also doesn't list the routes of partner airlines (like Japan Airlines) so you might miss options if you don't get on the phone.
Keep high mileage balances for big flights. When I flew around the world I was worried that the Europe=>SE Asia route would cost me an arm and a leg. It didn't, despite flying during peak vacation season (August). But you can't use miles to pay for part of a trip (ie paying half of a $900 ticket with 45,000 miles), so keep enough in there if you think you'll need them.
When booking flights, make sure to look at different airports. Flexibility is key if you want the cheap flights. For my RTW trip I didn't pre-book a single flight, preferring to book them as I went (usually about a few weeks to a month ahead of time). I also found that sometimes an airport a few miles away would have a much cheaper flight. For example, it never would have occurred to fly out of Montevideo back to the states, but that's where the deal was. Similarly, you might consider flying into/out of Brussels in Europe (vs Paris or Amsterdam).
Watch foreign transaction fees. Amazingly enough, some of these cards charge you for using them abroad. Most of my purchases while on the road go on the CapitalOne Visa since they don't charge for anything. I also use CapOne for my checking account since they don't charge for foreign atm withdrawals–they will instead reimburse you up to $25 a month for atm fees. Another great option I need to evaluate is Everbank, which is basically the same deal with absurd savings interest rates.
How to rack up ridiculous amounts of airline miles.
If you are a freelancer, work in a flexible environment, or own your own company, I highly recommend charging all business expenses to airline rewards cards.
Between 2010-2011 I racked up over half a million airline miles by using rewards cards.
That's correct: 500,000 miles.
While this won't be possible (or even necessary) for most people, I thought I'd include it to get the gears turning. Others writing about credit card miles have suggested signing up for every single card available.
Seems like a logistics nightmare to me keeping track of various cards, deadlines, and annual fees, let alone reaching the award spending amounts.
I'd rather find the best card and focus all effort there, so this is what I did:
Determined that the AAdvantage and CapitalOne cards had the best rewards programs.
Convinced my employer to allow me to charge our company's marketing spend (which I managed) to my personal cards, which would be re-paid via employee reimbursements.
I then spent $10-20,000 a month on the cards and….
…watched in amazement as it all went according to plan.
If you own your own business you can see how quickly this adds up.
Keeping Your Reward Credit Cards Organized
As mentioned above, I'd suggest keeping everything in a spreadsheet where you can refer to it now and then to see what the hell is going on. It's easy to forget why you signed up for a card (as well as all the other details) if you don't write it down from the outset.
I also include the total mileages I've earned in various frequent flier programs.
Other options for keeping track of the miles (but not the credit cards themselves) are Tripit (highly recommend the pro version), MileageManager and AwardWallet, which are paid services.
Conclusion: Happy Travels
Hopefully you now understand how rewards cards can make international flights cheap and easy. Feel free to hit me up with questions in the comments section below. If you have other experiences with these cards I'd love to here about it there as well.
Note that while this post is directed to US audiences, some of these offers are available internationally (in Canada, the UK, and possibly Australia).
I'll be writing more about this in the future, so stay tuned for updates.