Last year I Booked $30,000 in Flights for less than $1,000
Editor's Note: This post is brought to you by my good friend Scott Mueller who quit his job to travel the world back in late 2013. The post's title is not hyperbole. What follows is an extremely detailed breakdown of how to fly around the world for a fraction of the listed cost. If you're overwhelmed, check out the short FAQ on credit cards and airline miles or see my previous post on how I flew around the world for $220.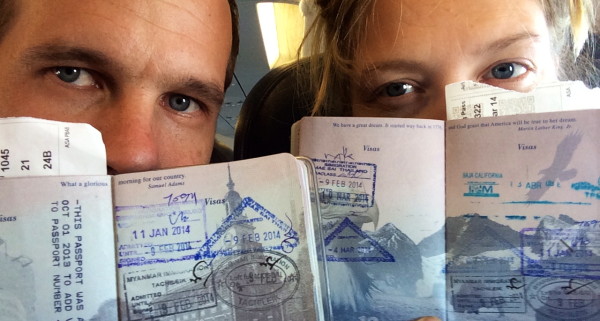 Whether you want to leave your cubicle for a short escape, attend a friend's far-away wedding, or embark on a multi-country, globe hopping year of exploration – having a solid airline mileage strategy can enable your travel plans. Add to that a set of easy to follow tactics for accruing and redeeming miles and you'll wonder why you waited so long to get started!
The whole idea began a few years ago: A crazy dinner party led to a couple of dates and before long we were scheming on how to 'leave this crazy city' and travel the world.
Fast-forward to January 9, 2014 and we left a freezing Omaha, Nebraska and our down jackets behind. An intolerable number of hours later, we were happy to put on flip-flops and explore the tropical paradise of Krabi, Thailand.
Planning that flight opened my eyes to the real power of frequent flier miles:

Hmmm… Do I want to save my miles?
I had to think long and hard about that one!
No, I think I'll just use miles.
If you are overwhelmed by airline miles, how to accrue them and how to use them effectively don't worry (see also: Frequent Flyer Miles FAQ). I am not a complicated miles guru. I'm a traveler just like you, but I've had a decade or so of experience accumulating miles and using them to flying me and my loved ones all over the globe. I'll layout 5 ways I used miles this past year to travel to over 15 countries in 12 months, using over 300,000 airline miles and less than $1000 on tickets that would have cost more than $30,000!
I personally use miles mainly for flights (although I know you can rent hotel rooms or rental cars and even buy a new TV, etc.), so the focus here is collecting and using miles for that purpose.
I personally use both United and American mileage programs. They are great because between these two carriers you have abundant destination options with their partner airlines with Star Alliance and One World. United has a few benefits – especially for complex bookings, but American typically requires fewer miles.
The basic premise of frequent flier miles is that you exchange miles, accrued either through travel or credit cards for airfare, while you still have to pay for taxes and fees, and in some cases booking fees.
Some of the benefits of booking travel with frequent flier miles
Extremely low cost tickets (we flew from Las Vegas to Rome for $11.20 each)
Increased options (fly all the way to Krabi instead of Bangkok)
Increased flexibility (book a last minute ticket for a $200 instead for $2000)
OK, so where did you use the miles? Where did you go?
Here is the total breakdown, with the stories below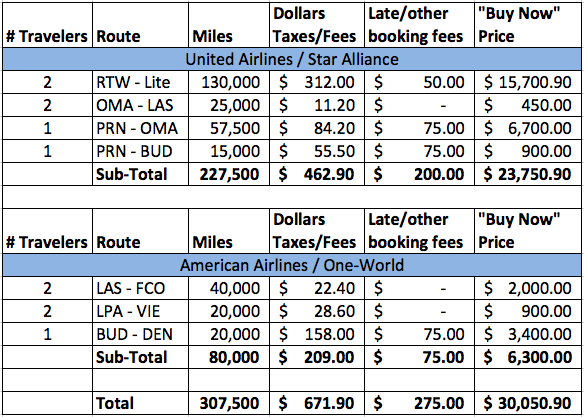 * This booking fee of $50 was because the flight was booked on the phone, and was the only way to reduce the miles used from 195,000 to 130,000 for the flights
** These booking fees were because the flights were booked within 21 days of departure. I consider the $75 booking fee a 'convenience fee.' More on this below.
Miles Option #1: The Epic Open Jaw Roundhouse (flight RTW above)
Editor's note: "Open Jaw" means a round-trip ticket where the travel arrives at one city but flies home from a different one.
When to use this trick: if you know (more or less) your departure and return dates, and if you want to really want to go to Asia and Europe or Africa and Europe, or the USA and South America, etc. on the same trip. Basically you get two trips in one.
This is the most amazing overall deal, although a bit complicated and only available with United miles. For this trip we used all the tricks. Reference the flight shown as RTW in the table above. 130,000 miles and $362, or 'buy-now' for $15,700!
We left Omaha, Nebraska and flew to Krabi, Thailand in January. We then used local flights (Air Asia, mainly) to fly to Indonesia and then Vietnam. In April we flew from Hanoi, Vietnam to Brussels, Belgium then we spent 3+ months in Europe (again using local carriers, RyanAir and WizzAir for flights and trains for shorter trips). We then made it back to Brussels and flew to San Francisco in July.
So in airline lingo: We used two open jaws (into Krabi, out of Hanoi & out of Omaha, into San Francisco) and one stopover (Brussels/Europe). In this case we knew we were coming back to California for my brother's wedding. That description missed some of the more sexy points: rock climbing in Thailand & Spain, surfing in Indonesia and staying on a car-less paradise, a ten-day tour of Israel (epic and crazy), trekking in Vietnam, surfing in the south of France… you get the idea, the miles enable the dreams.
The fine print: You can only do this miles hack with United/Star Alliance partners. Technically you have to book a round-trip ticket and follow the same zone routing. Zones are basically large geographic areas (e.g. Europe, Northern Africa, South East Asia, North America, etc.) So we had to fly through Europe to Thailand, in order to be able to have a stopover on the return for 3 months. This ticket was 130,000 miles for two and less than $350. This routing ended up saving us about 65,000 miles as compared with booking one-way fares to all of these destinations. 65,000 miles is a single round trip ticket USA to Europe (or about a 1-way business class ticket from Europe – USA, see below).
Miles Option # 2: Booking to secondary Airports at your Final Destination
A huge benefit of miles is that you can often fly all the way to a remote/obscure final destination for the same amount of miles and money as you would fly to a main 'hub-city.' Typically, if you were to purchase a ticket, it would be more expensive to fly all the way to Krabi as compared with Bangkok. I just did a search and, roughly speaking, flying to Krabi would be about 50% to 100% more than flying to Bangkok. For some reason when using miles the price comes out the same.
When to use this: you have a specific destination in mind that has an airport nearby, and flying directly there saves the extra hassle and time of getting to specifically where you want to go.
So we flew all the way to Krabi, instead of Bangkok. We also flew from Pristina, Kosovo to Omaha, Nebraska – two out of the way airports.
We also used miles to fly direct from Las Palmas, Gran Canarias to Vienna to meet some friends, check out the Christmas markets, have some Punsch and pig out on some schnitzel. The other ways to make this flight would have been either very expensive, or at least one connection, and possibly an overnight stay in some city/airport if we had used budget airlines.
You get the idea. If there's availability for miles tickets on the flight, you can fly to any airport the airline or it's partners' serve.
On the other hand, when we flew to Morocco, there were no good miles options or purchase options to fly from Las Vegas to Marrakech, so we used miles to fly to Rome. We then spent 4 days in Rome and flew with Ryan Air from Rome to Marrakech for less than $100 for two of us!
Miles Option #3: Buying a One-way Ticket to Paradise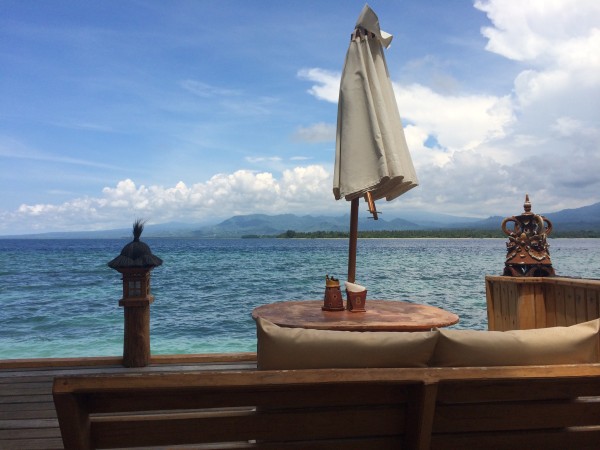 Often times when booking full-price airfare a one-way ticket can be nearly as expensive as round trip.
With airline miles, a one-way ticket is half the number of miles as a round-trip ticket. Another benefit is that if your airline doesn't allow open-jaw round-trip tickets, two one-ways can solve that issue!
When to use this: You're not sure what your exact itinerary is when you leave the house. This maximizes your flexibility, without costing extra.
Slight disclaimer: some airlines are now reducing the price penalty for booking one-way flights. However, it is not uncommon for two purchased one-way tickets to cost significantly more than a round-trip ticket, especially internationally.
We used this when we wanted to fly to Rome, and ultimately Morocco because we didn't have a return plan yet. We used a total of 40,000 miles and $22.40. Yes, less than the price of a lunch for two in any airport.
Miles Option #4: Booking a Last Minute Escape
When to use this one: you're not sure you can go, you're plans aren't solidified and ticket prices are too high. Caveat: this works best in the off-season (i.e. not summer).
We've all been there – dreaming about taking that last minute flight, or we've been caught somewhere without a fully formed plan and want to get out of dodge. The problem is that most of the last-minute (or within a few weeks) flights are often way more expensive than if you plan well in advance. Towards the end of our trip, our plans were very loose… So we used this a lot.
The nice thing is that often airline miles tickets are the same price last minute, although fees may go up. There are two ways to do this. My preferred method is to book the ticket you want last minute. If the ticket is booked 21 days before you fly, you incur an additional fee of $75 per ticket. This isn't ideal, but if the taxes are $5.60, then it's OK. The advantage with this method is flexibility.
The other option is to book the ticket in advance between the two cities you know you want to fly between (e.g. SFO – LHR). If your dates change, you can change the ticket. The advantage is that if your initial dates work, you at least have a ticket booked. The disadvantages are that you may have to pay any changes in taxes and fees, there is often a re-booking fee anywhere from $50-$100 (some credit cards reduce or eliminate the fee), and the flight changes may not be available for a miles ticket or the miles for that route may have increased.
I personally appreciate the freedom that using miles enables for these last minute bookings, and consider the $75 fee a 'convenience fee'. Again, this seems to work best in non-peak times, and you have to have flexibility with your time to really make this work, but if those pieces are in place, then there's nothing better than booking a flight for the next day.
More: why I stopped booking airline tickets in advance.
Miles Option #5: Go Nuts
When to use this one: for those 'why-not' moments, or as a special treat… or I guess if you have enough miles!
On the last leg of our journey, my girlfriend was flying home a week earlier and I was going on to meet up with Spartan Traveler for a week. I happened to notice that business class tickets were on sale… and it was the top deck of an A380. So I decided to splurge and set her up with a nice and relaxing flight home. The taxes and fees were the same as with economy class and the miles were just less than double an economy ticket (57,500 instead of 70,000 miles). Of course we could discuss if this makes sense all day – a one-way ticket for the same miles and a round-trip? But considering that this last minute (booked two weeks before the flight) ticket cost just over $150 and would have been $2500+ in economy or $6000+ in business class – it was a trade I was willing to make!
How anyone can accumulate enough miles quickly
There are essentially three ways to accumulate miles: fly on paid tickets, credit card bonuses and credit card spending. Before we dive into this too much, never ever ruin or risk your credit for the sake of airline miles. Only use the credit card accumulation method when it's not going to cause other problems. I've used all three methods.
*** First things first: you'll need to sign up for frequent flier accounts if you haven't already. I recommend both United and American Airlines, as they have some of the best programs and extensive partner networks. I would also sign up for any airline you regularly fly on… can't hurt! Miles don't expire if you add miles in an 18-month period, and miles accrued with a credit card count – so if you use an airlines credit card you'll never 'lose your miles.' I can't comment on Delta/KLM/AirFrance, other than most people I know with accounts there are always complaining. See the credit card / airline miles FAQ here.***
1. Big disclaimer:
I used to fly an intercontinental flight about once per month for a year and a half, often it was in business class (I worked in Germany, and would fly to the USA or Asia). Business class accrues 1.5 miles for every mile flown (so a 12,000 mile journey results in 18,000 miles accrued), add to that hitting some elite status bonuses and I was racking up the miles. That was a nice buffer and intro course into the world of frequent flier miles. But, it's also not necessary.
2. Credit card sign-up bonuses:
Most recently, I've signed up, and my girlfriend has also, for a CitiBank American Airlines card (50,000 miles each), we also recently added a United Mileage Plus Explorer's card (no foreign exchange fees) for an additional 55,000 miles. I've also signed up for mileage cards previously. I like this card: The US Airways® Premier World MasterCard® This great card has basically no spending minimum to get 50,000 miles, you can use the miles on American Airlines, there are no foreign transaction fees and you get 10% of redeemed miles back! Also check out the bigger FAQ on Credit Cards and Frequent Flyer programs & explore additional airline & frequent flyer credit card offers here.
3. Credit card spending:
Using the cards also accrues miles; although, in my case typically the bonus is a lot more than what I would typically accrue in a year. Check to see about credit cards that accrue 2x or even 3x miles per dollar spent in certain categories. Depending on how much you spend on your credit card every year, this could also be a good method to accumulate miles.
I know some people prefer the cash-back cards, and these are great – but cash-back is typically $0.01 per dollar. As you can see in the chart above, we had numerous flights that were the equivalent of $0.10 per mile and a few flights were in the $0.02 range.
Final thoughts
There are many strategies to accruing miles, the quickest by far is the sign-up bonus for credit cards – although as a warning, personal credit cards are not toys! Be aware of minimum spending requirements, minimize fees by rolling credit cards together after 9 months or switching to no-fee accounts. Remember – develop your own credit card strategy and manage it carefully. These are tools you can use for more leverage in travel, but you shouldn't pile on debt just for a ticket to paradise. You can also check out Clayton's post on how he flew around the world for less than $220!
If you have any questions, thoughts or comments – drop a note! And hope to see you in some far-flung corner of the world soon!
More on frequent flyer programs and airline credit cards:
Photo Credit : author