Essential Entry-Level Work Gear for Digital Nomads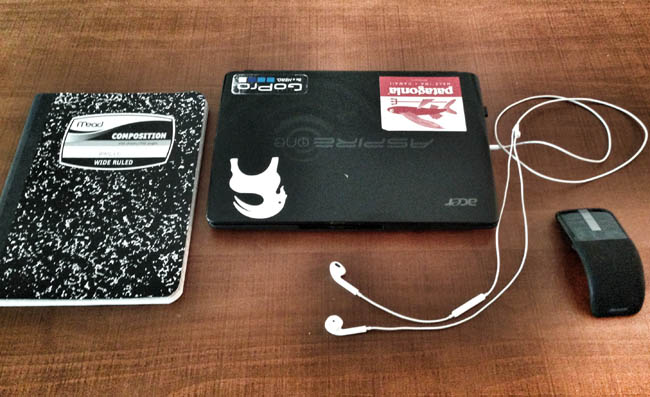 Want to work on your laptop while traveling around the world? There are a few things you can't live without.
[Editors Note: And… we're back! Q1 ate my lunch, but I'm hoping to post weekly for the forseeable future.]
The equipment that allows me to work from almost anywhere was thoughtfully accumulated over the last 18 months, and it's a balance of price, weight, and power. There's no need to go gear-crazy if you're just starting out (or ever). All you really need is a decent laptop, some cheap headphones, and a place to work.
There are plenty of "top # pieces of gear for digital nomads" out there, but most of them range from borderline excessive to absolutely ridiculous. I'm assuming here that a) you have a budget or you're just starting out and b) you don't want to carry 80lbs of extra gear with you (that can also be damaged or stolen).
I started my own adventure with nothing more than a cheap laptop (not shown here), an old iPhone 3GS,  and a pair of iPhone earbuds. You can get all of the equipment (except for the headphones) on this list for roughly half the cost of a MacBook Air.
The point is: you can get started cheaply, so don't assume you need the latest and greatest gadgets to make it happen.
Here is my list of essential entry-level work gear for digital nomads:
#1 The Workhorse: AspireOne 722 Netbook Laptop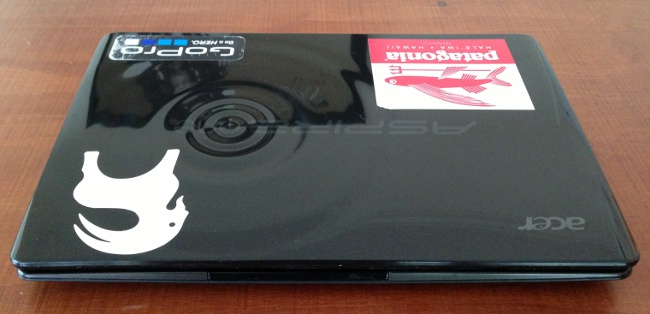 I'm calling this thing a laptop because it was the first netbook (to my knowledge) with a full-sized keyboard that could compete on specs with entry-level laptops. It's also what allowed me to become  a digital nomad.
There's no doubt I will get flack for this choice, but I'm not shelling out $1200 for a Macbook any time soon. First of all, the Acer has a much better return on investment for starting out (uh, it's really cheap). Second, I'm less afraid of it getting damaged or stolen than an extremely expensive laptop. Third, I'm buried 90% of the time in Excel spreadsheets, which at least in the past weren't all that great on Macs (yes I know you can run Windows on a Mac).
This netbook is the obvious choice for entry-level remote work (meaning you're bootstrapping) which I was doing when I bought it.
The Acer AspireOne kicks ass for a number of reasons:
Weight: It's relatively light at about 3lbs. The Macbook Air is only ~0.5lb lighter.
Price: I bought mine for $280 during a sale on Amazon.
The Battery: Is incredible. It lasts for 6-7 hours! It's a game-changer to have use of a laptop for the better part of a 10 hour flight.
Full-size Keyboard: it was the only netbook with one at the time.
It's also loaded with a 500gb HD and came stock with 4GB RAM (which I upgraded to 8GB for $30 – note that the price went up to $50).
My only complaints:
The processor should be faster, but that's the trade-off for long battery life. Occasionally the system gets bogged down if I open 20 chrome tabs, Excel, and some kind of video at the same time. But I do a ton of resource-intensive tasks just fine on here.
Also, the damned cursor jumps around when you type if you don't turn off the touchpad. This is easily solved with a mouse, which I always use (see below), but kind of ridiculous for a sellable product.
I've thought recently about upgrading to something faster, but after the last month of hacking on this thing all day I just don't think it's necessary yet. But yes, I am dreaming of the day when I can have twice the power for 1/2 the weight.
GO: For some reason, Acer has about 200,000 different netbook models, and it's impossible at any given time to figure out what's available. This is as close to my exact model as I can find: Acer Aspire One AO722-0022 Notebook + 8GB Ram upgrade
#2 The Swiss Army Knife of Productivity:  iPhone 5
Ok Apple fan-people, there you go.
I still think the iPhone is one of the greatest technological developments of my lifetime, right up there with the desktop computer and the internet. Yep, you heard it here first.
While I rarely geek out on technology, the iPhone is so incredibly powerful that for 99% of users it's like taking a rocket launcher to a knife fight.
What other tool can do all the following business tasks for me (and fit in my pocket)?:
Centralize and streamline access to almost everything, from analytics to project management to notekeeping.
Allow me to keep up with educational resources like podcasts, instructional videos, and synced RSS posts/Instapaper that I can read while traveling.
Take 1080P video and great photos.
Take photos of receipts/whiteboard sessions/notes that can be immediately uploaded to bookkeeping/Evernote/project management tools. This alone makes it worth it.
Allow me to dictate text for emails, notes, reminders, and even blog posts.
Probably save me hundreds of hours by using the GPS as well as public transportation info.
Handily make skype calls from any available wifi. It's a pain in the ass to lug your laptop around to do this.
Give me a world-wide travel phone. The iPhone 5 (at least the Verizon version) has a removable SIM card that I can swap out, so I can use the phone anywhere (not quite as easy with older models).
Hold maps and travel guides like Lonely Planet .pdfs
iPhones are expensive, but the reason I'm listing this as an entry-level item is that if you're lucky/clever you can get one for cheap. You might also consider bagging the phone part and spending $100 on an ipod touch (which does pretty much the same stuff).
I was able to get onto a shared calling plan through Verizon so my monthly iPhone bill is only $47 (50% off). As a new subscriber I got the phone for $199. If you're on a tight budget just get the 4G for free.
My only complaints:
iPhones are prime targets for theft. I've had two stolen (off my person, I didn't just leave it somewhere): one in the US (violently) and the other while traveling. This new one is now a line item on my renter's insurance. Don't wave these things around in sketchy areas.
The whole US phone-contract thing is a drag: but it's the only way to get a brand new $650 iPhone for $200. Note that when traveling you can turn the plan off for up to 3 months for $15. Even if I have to buy out of the phone contract ($350) though I still save $100 on the phone.
#3 The Idea Lab: A simple notebook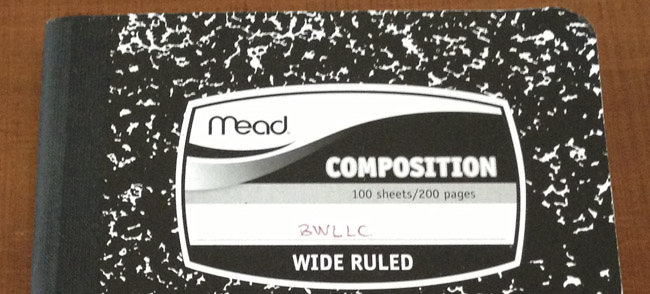 This seems like a stupid thing to list until you get stuck in a remote place or developing country with a lot of time on your hands.
All of my creative and breakthrough ideas come when I'm not working, so it's really important to have a logbook of thoughts, ideas, and to-dos at my fingertips. It's also much better than using scraps of paper in that you can refer back to what you worked on earlier.
The best notebooks I've found are the cheapest: a hard cover (so it doesn't get destroyed in the pack) college-ruled Mead composition book does the trick.
I now have both a Mead notebook for work and for journaling.
Go: You can find Mead composition books in almost any office store.
#4 Nearly every book in the world at your Fingertips: Amazon Kindle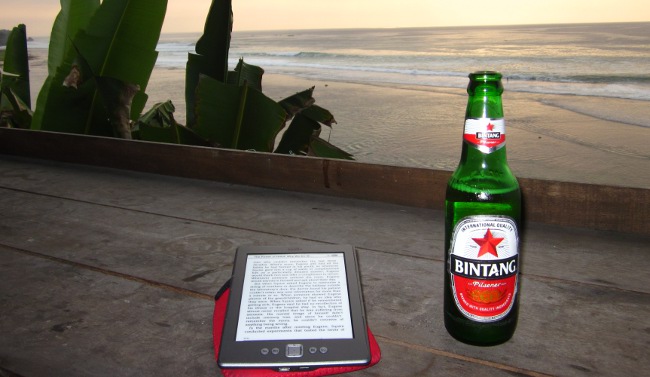 (Bintang not included)
Tired of reading Tom Clancy? You should be. Throw that book away and start plowing through the classics.
The Kindle is one of the most important upgrades I've made in the last year–it at least doubled the number of books I read in 2012.
The best part about the Kindle (besides the now $69 price tag) is simply space and weight: it doesn't take up either. If you aren't in the loop: the Kindle holds up to 1500 books and the battery will run for weeks on end with a single charge. It uses an electronic ink (it's not backlit) so it feels more like reading a book than a screen (theoretically won't strain your eyes and can be read in broad daylight).
The real power of the Kindle is providing you with reading material when you need it most: stuck in the middle of nowhere when you finish a book. All you have to do is open the  next one and your onto a new subject in 60 seconds.
My primary recommendation here for digital-nomads is to download the most-often recommended books for travelers/lifestyle-designers/entrepreneurs. I'll be compiling some of these in the resources section on the site, but you can find some of the best by listening to the Lifestyle Business Podcast.
My only complaints:
The Kindle is breakable. Mine just broke last week (just under a year of use) from a relatively minor bump and now the bottom half of the screen looks like an etch-a-sketch. You have to be a little cognizant of packing this thing, eg you can't just throw it around or smash it in the pack like a book. A service rep at Amazon (they sent me a new one free) said they try to refurbish broken Kindles. I asked how many end up not being fixable and are thrown away. She said: "a LOT." 

It's one more piece of plastic that's going to end up in the land-fill. You should keep this in mind with all of the whiz-bang technology here.
Go: Amazon Kindle
#5 The World's Best Travel Mouse? Microsoft Arc Touch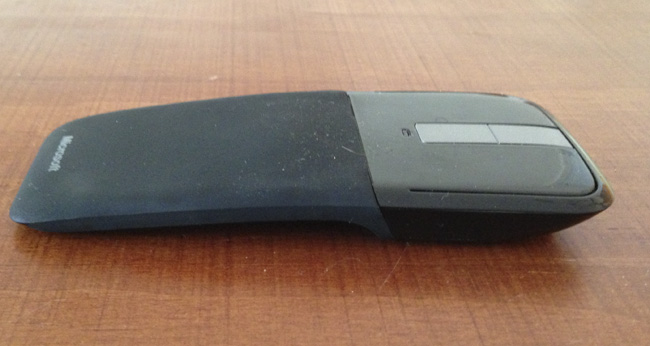 I admit, this is sort of ridiculous, but after getting used to it I love this thing.
First of all, it's a flat mouse that folds into an arc to activate. This has a number of benefits, including a major reduction in bulk and weight in my laptop bag. Before I carried around an older version of a lightweight Microsoft mouse but I'm really happy about this upgrade.
A few bonuses: the USB key is so small you never take it out. The mouse turns off and on by popping it into and out of it's arc shape. It uses one AA battery that  lasts for a month or more.
Even with the included battery this thing is so stupidly light that it's a UL flash-packer's dream. I bought mine refurbished so it was only $30.
My only complaints: 
Some people find the buttons a bit "stiff" but I got used to that pretty quickly. Scrolling with the imaginary wheel makes an excessively loud "scrolling" noise.
#6 Keeping the Noise Out: iPhone ear-buds or Earplugs
These are obviously free or extremely cheap and generally enough to get started. I've been really impressed by the new iPhone 5 earbuds–they seem like a major upgrade over previous versions.
Earplugs also work well as noise-cancelling headphones, despite making you look like a psychopath.
I wouldn't consider going further than this until now, but…
BONUS: Potential gamechanger? Bose QC 15 Noise-Cancelling Headphones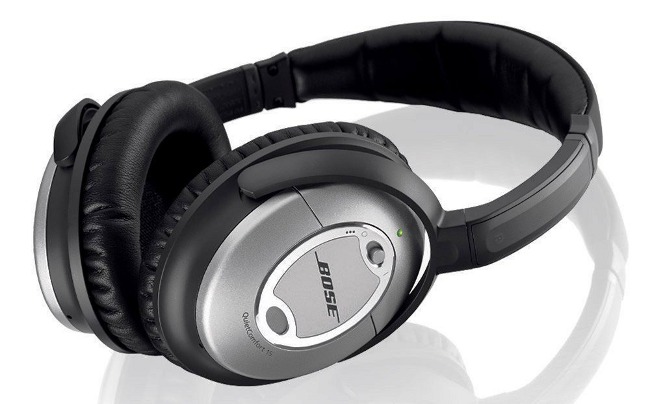 Ok, so $300 is f****ing ridiculous for a pair of headphones, but the ability to focus in a noisy environment can be priceless.
I don't think I'd be convinced reading a review, but what sold me was going to Best Buy and trying these on. The display includes a video screen that walks you through the features of the QC 15 and so on, but just putting them on your head without any music is like going into a cave. It's similar to putting on the type of ear muffs used in heavy construction.
But here's the clincher: the Best Buy display tells you at one point to take the headphones off, so you comply, and then BAM. Turns out the whole time a speaker above the video has been simulating a jet at takeoff right in your face, and the background noise is impossible to hear with the headphones on.
I think these could make a big difference while working on the road, especially in public venues.
I don't actually have these yet, so I can't give a final review, but I've heard enough to seriously consider making the jump, and I think I can probably find a used pair in excellent condition for $200.
My only complaints:
The price. $300 clams is a lot to shell out on something 'expendable'. The new iPhone 5 ear-buds are good enough (and free) to consider sticking with them.
Don't block out conversations well? After my Best Buy experience I tried these out in the Apple store in downtown San Francisco. That's about 100 people all talking at once in a closed area. While the QC15s block out background and ambient noise they don't seem to screen out voices as well as I'd expect. This could be really important, since it's mostly the human voice that's distracting, but we'll have to see.
Weight and bulk: these headphones are relatively light, but you're still adding gear. The QC15 fold flat and come with a small carrying case, so that's a plus, and since I travel on the extremely light side of things this might not be a big deal.
As long as you're getting things done..
Like I said, if you're just starting out don't worry about the fancy extras here. Just get the best laptop you can afford and a pair of headphones and you're set. Just make sure the laptop doesn't weight too much.
Ultimately it's about getting things done, so whatever works for you. I'd love to hear if you have any suggestions about work-related travel gear. And yes, I will upgrade this laptop at some point!
[credit:
iPhone 5 photo
]