SE Asia: Set Up Shop Anywhere in Less than 8 Hours

Some places are made for laptop nomads.
You arrive with no plan, no contacts, no reservations, and in just a few hours you have cell service, a furnished apartment, transportation, a gym membership, and a bead on the best co-working spaces and coffee shops in the area. That is what we're talking about here.
It's not that I'm in a hurry, it's just that I value efficiency and flexibility. Any place where you to set up shop in less than 24 hours usually lets you leave in the same time-frame. Minimum hassle, maximum results. It's also really fun, and is probably the closest I'll get to feeling like Jason Bourne. 
Because indefinite travel requires a marathon pace.
While constant movement is enjoyable up to a point, everyone eventually has to stop and live normal life for a few weeks or months. Returning repeatedly to Chiang Mai permanently etched into my psyche one of life's most important maxims: always move from positions of strength. In other words, movement requires sacrifices of habit, routine, and productivity. It's best to mix it up but don't do so at the expense of the power base.
If you're trying to work on your laptop there's an ongoing imperative to establish base of operations, build some routine, and get s*** done. These days I'm enjoying this more than traveling: spending enough time in a new place to get to know it, and long enough give my routine cycles a few spins. Trying to figure out the basics of life in a new place is all part of the fun.
Everything you need to survive, work, and thrive, in just a few hours
Here's the general blueprint I used while setting up shop in Bali/Lombok in Oct/Nov 2013 and Chiang Mai in December 2013 and February/April 2014. Within 8 hours I had an apartment, internet, cell-phone plan, motorbike rental, CrossFit gym membership, and had found the best coffee shops in town.
Once you've done this a few times it only takes a few hours.
First 15 minutes: Get a local SIM Card

Apologies if you don't have an unlocked/Verizon iPhone 5 (or any non-US iPhone), but it's a key part of the 21st-century mobile office.
Here's why: upon arrival, walk to the airport cell service kiosk and grab a SIM card with the largest data plan available. If you arrive by train or bus you should see the same thing. If not, walk around for 10 minutes and you can usually find a cell-phone kiosk, or get in a taxi and have them take you to the nearest mall. SIM card / mobile credit refill kiosks are everywhere in most places outside of the USA.
There is no need for a large amount cell voice credit, only data, because you can make all calls through Skype on the data plan. Generally the SIM card + data plans in SE Asia cost about $10-20 a month for 3GB.
The kiosks will take care of everything. Just hand them your phone, some money, and 10 minutes later you have the key to high-speed setup in your new city. Having an iPhone is also crucial for internet connectivity: when the internet cuts out (which it will) you always have a backup, just turn your iPhone into a wifi hotspot and use your data connection. I did this exclusively in Lombok (a smallish Island next to Bali) and was able to make crystal-clear Skype calls to the US.
First Hour: Acquire wheels (aka rent a Motorbike)
Walk out of the airport, train, or bus station, and get a taxi/bus to the main backpacker or tourist area in town. You should have ample opportunity to rent a motorbike there.
If you're going to spend any time in SE Asia, riding a motorbike is an essential skill. I learned in Bali, which is probably the most dangerous thing I've done in life, but it's not too hard once you get the hang of it. Just make sure you have a few days of practice before you get on major roadways, and remember that you can almost always crawl along on the margins in most places if traffic is moving too fast. Don't worry about driving on the opposite side of the road either, it's easy to switch and you can always just follow the flow of traffic anyway.
Get an automatic – there's no point in shifting in heavy traffic unless you're a masochist. Newer Honda motorbikes generally cost about $50-$90 a month to rent + $20-$40 in gas.
Most places you can walk in, leave your name and some basic info (rarely a scan of your passport) and roll out with a scooter in minutes. Make sure you get a helmet, and make sure you write down the address and number of the place you rented it from. It's easy to forget a month later.
Hours 2-6:  Finding a place to live
The best option for housing is to get a recommendation from someone who's already there.. Having too many housing options to consider is a recipe for overload, so it's best to avoid having to wade into HostelWorld or Booking.com.
Take another look at my post on finding cheap accommodation anywhere for more.
Unfortunately, it was busy season in Chiang Mai when I first arrived, and most of the top recommendations options were booked solid until February, so I had to get my hands dirty. In this case, here's what you can do:
First, perform a massive search on HostelWorld, Booking.com, and Google 'finding an apartment in CITYNAME'. This last part was the most valuable in Chiang Mai since there are at least 5 blog posts on the topic that list housing options. (I don't use AirBnb in SE Asia since it tends to be way overpriced for the local housing market).
Take the first 3-5 best options, call them to verify availability, and make a Google Maps itinerary on your phone by saving each housing option as a favorite (you have to be signed in, but drop a pin and then star the pin. Voila.)
This is the fun part, and where the mobile data plan comes into play. Jump on the motorbike with iPhone in hand, ear-buds firmly locked into your ears, and get into search and destroy mode. Get Google Maps directions to the first housing option in your ear-buds as you motor around the city. This is the absolute fastest way to see a bunch of places you might want to live.
By making a quick Google Maps loop you can to find a place to live in less than half a day. Don't worry about it too much: as long as the place is clean and quiet you should be good to go. I like to work in my room a lot (set up a standing desk) so I try to find a place with good internet and the furniture to stack into that kind of arrangement.
Make sure you check internet speed in the room you will be renting before you book it. I've made the mistake of checking it in the lobby before, only to find that my room was a dead zone.
Hours 6-7: Set up the business of life and the office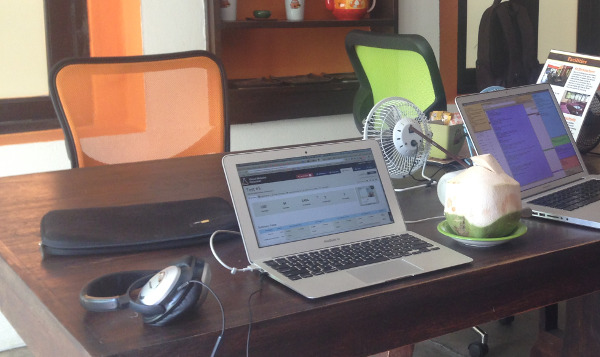 Now that you have a home, transportation, and a cell-phone, it's time to sort out the other basics. My next biggest priority is finding a gym. Since I'm a CrossFit junkie I just search Google Maps for the closest affiliate (this usually affects my housing choices).
You can usually ask the front desk at your hostel/apartment/serviced housing about things like laundry, restaurants, etc. The nice part about zipping around on a motorbike for housing is that you should already have a good notion of where things are in the city.
The next piece is to find office space. Generally I Google "best coffee shops in ______" and "co-working space _____". As a card-carrying laptop nomad I also use connections with people who are already living there to figure these pieces out.
Hours 7-8: Goals and Schedules
The next piece largely depends on how you operate, but I'm big on goal setting and writing everything down for reference.
I do this for both work and life: What are you trying to accomplish while you're here? Pull out a sheet of paper and write down goals for the month. Then work backwards: in order to accomplish these goals, what do I need to do in Week 1, Week 2, etc.
My rather advanced project-management tool these days is a Tim Ferrisian piece of printer paper, folded into quarters, with no more than a few tasks per day written on each. Do everything and you do nothing.
Finally, I like to set a schedule, e.g. when to go to the gym, working hours, and so on. My favorite schedule these days is working from 6:30-12:30 straight and taking the rest of the day off.
Plugged In and Ready to Rock
That's it. Max 8 hours in and you have everything you need to kick ass and take names for as long as you're there. I've done this 4 times in the last 7 months, and 3 times already in Chiang Mai largely because it's the most plug-and-play place I've ever been to and it covers all my needs to a disgustingly comfortable extent.
For more on Chiang Mai, see Why Chiang Mai is a Digital Nomad Hotspot
The next step? Finding more places around the world that offer this kind of low-overhead setup and extremely high quality of life.